Sky Bet Championship: Leicester manager Nigel Pearson delighted with Reading win
Nigel Pearson was delighted with Leicester's 1-0 win over Reading as they continued their battle for promotion.
Last Updated: 27/12/13 9:32am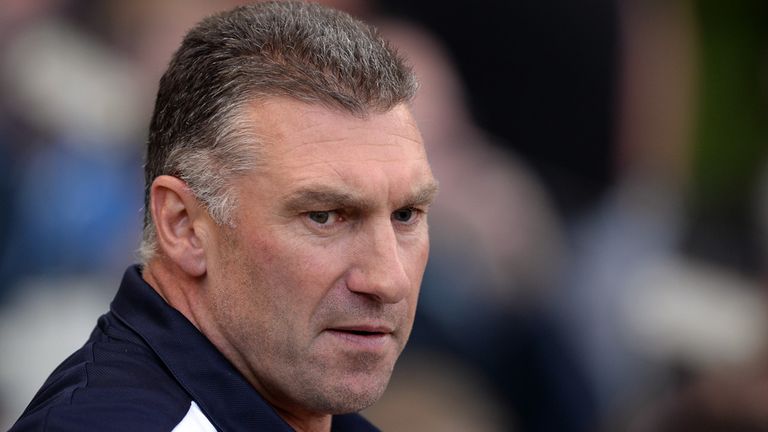 Reading manger Nigel Adkins saw his side slump to a second successive defeat but said he was happy with the performances if not the result.
Leicester won the game with a 21st minute penalty from David Nugent after Anthony Knockaert was brought down by Shaun Cummings. It was Nugent's eighth penalty of the season and his 12th goal.
Reading had a goal from Pavel Pogrebnyak ruled out for offside in the 66th minute as they staged a second half fightback. But Leicester held on to go top of the table with the win following on their victory at QPR last Saturday.
The game was hit by power failures in the first half but the floodlights were kept on by an emergency generator at the ground.
Pearson said: "The last two results have been very good for us. In fact, when you look at the last three league games, including Burnley which we drew and were unlucky not to win, we have done very well.
"But I think that we need to because it really is tight. I am pleased for the players because they continue to work very hard. It's that stage of the season where you can very quickly fall behind or you can do a bit of catching up. So it has been a good week for us so far.
"It was always going to be interesting in this match how the sides dealt with each other because of the formations.
"They played with a man behind the a central striker but we managed the ball well enough to nullify that as a problem. But it was a good all round performance in the first half and we showed a lot of drive and quality in possession.
"They came into it a bit more in the second half but we still continued to create a lot of dangerous situations. It was a good game of football. We get into box often enough to cause problems and Anthony Knockaert won the penalty today with a tricky run but I think he was dangerous every time he got the ball.
"The information I got about the power problem was that, although it had tripped before, if we isolated the floodlights and powered those through the generator it wouldn't trip again. I thought the referee handled it very well because it was potentially quite a difficult one.
"We have done okay so far this season and it will be tight all the way through I am sure."
Reading manager Adkins believed his players did better after the break.
He said:" I thought we did well in the second half. I have just seen the goal back and I have to say it was a soft penalty. We broke to counter but lost possession of the ball and left ourselves exposed. From the dugout I thought it was penalty at the time but having seen it again it looked a bit of a cheap penalty.
"So it's a shame when you look at the second half because the offside goal was a close call as well.
"It was a poor first half hour of the game but in the second half I thought we were the better side.
"From that point of view it was disappointing because we came away with nothing.
"There was always going to be a possibility of the game being abandoned because of the power failures, but well done to Leicester for what they did, because people want to see a full game of football. I'm all in favour of that.
"In our last two games we have had good performances but poor results. So it is a case of marrying those two things together."