Sky Bet Championship: Nigel Pearson understands expectation on Leicester City
Leicester City manager Nigel Pearson believes leadership "comes easy" to him after a successful on-field career.
Last Updated: 01/02/14 11:45am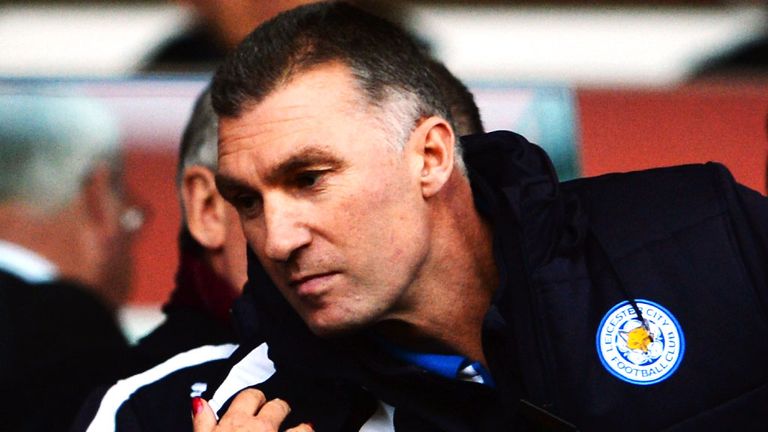 The former defender captained the Owls to League Cup victory in 1991 before proving an inspirational signing for then Middlesbrough manager Bryan Robson three years later.
After a 19-year playing career, Pearson turned manager with Carlisle United and is now enjoying a record run with Leicester.
Pearson's first spell at Leicester ended in the midst of a club takeover but three years into his second term in the midlands, the Foxes are well poised for a return to the Premier League.
Currently top of the Sky Bet Championship after winning eight successive matches, Pearson understands there is now a weight of expectation surrounding the King Power Stadium.
"I captained the clubs I player for," he told the Daily Telegraph. "Leadership probably does come easy to me but hopefully in an understated way.
"There is a weight of expectation on the club: we've been out of the top flight for 10 years.
"Everybody wants us to be back in the Premier League and so do we. We have a good group of players here.
Characters
He added: "We have senior players I can really relate to like Dean Hammond and Kev Phillips, strong characters, the types of people who'd be running dressing rooms in my day, in a fair way.
"Paul Konchesky is a senior player now, Wes Morgan, good characters as well as being good players."
Leicester's victory over Birmingham on Tuesday was an eighth league victory in a run and a fourth on the trot away from home, both club records, and Pearson admits there is a healthy atmosphere in the dressing room.
"I came into the dressing room the other night after the Birmingham game and all the players were all on their phones," he added.
"A few years ago, I might have been angry about that. But they're looking to see the other results. I don't mind if they talk about promotion."
Pearson admits he is delighted walking into work every day, claiming his relationships with his backroom staff are thriving.
Interaction
"I love coming into work, the interaction with the staff, even when some days I know I'm a nightmare," he claimed.
"Sometimes they're better off without me. People think I don't have a sense of humour but I do.
"Craig Shakespeare makes me laugh. He's a great assistant for me, knows my mood. I have terrible moods.
"I can be quite intense. People have said I'm rude, that I can blank people. I'm actually a very sensitive bloke really."
Pearson's temper has got the better of him however, with the Foxes' boss serving a two-game ban after an altercation with a referee and he believes time in the stands benefited him.
"It started when I got send off against Charlton [in August]," he added. "I just walked over to the ref and told him what I thought about Matty James being sent off and a foul on Kasper Schmeichel.
"I got a two-game ban, sat in the stand and thought 'I'll stay up there'. I am up there now because there's an expectancy that if you're English to show passion.
"I can be like that but actually I want to view the game. I probably have a better chance of affecting the game by seeing what I see and passing the message on."