Kevin Phillips
Football Expert & Columnist
Kevin Phillips blogs on his first goal for Leicester and going into management
The continued stream of sackings just makes Kevin Phillips more eager to go into management...
Last Updated: 05/02/14 4:53pm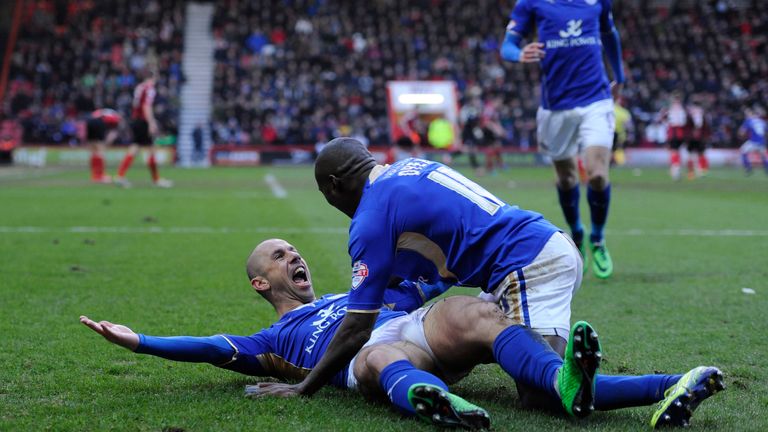 If anything, I am more eager to go into management after my playing career - it makes it an even greater challenge.
Some people may think you are crazy to do it - but some players look forward to it and thrive on it and it would be another challenge in my life. I have dealt with many.
Every time you join a football club there is pressure to score goals, especially later on in your career, and I have managed to do that. So I think I would thrive on that pressure.
Management has become even harder these days from when I first started out. Look at how many manager casualties there are.
You only have to lose four games and you are right under pressure. If you are going into management then you have to know that and I am certainly aware of that.
Buzz
As a manager you have to be clever, to think about the game and you have to be knowledgeable. I think with 20 years in the game I have a lot of knowledge; it doesn't necessarily mean that you will be a good manager but I think it will lead me in the right direction.
There is a buzz about it; having the authority, the final say and the buck stopping at you. And it is a way to stay in the game, to be on the training pitch from day to day and enjoy the big-match atmosphere.
I plan to do my coaching badges over the summer and I am always ready to do some coaching sessions at Leicester, though I am concentrating on playing right now.
I fully understand that I would have to go down the coaching route first to get some experience. Chris Powell, who has gone on to do good things at Charlton, was introduced to the same thing that the manager wants me to do at Leicester.
Over the years I have taken notes on training sessions that I have thought were good, and those that weren't, and things that different managers did.
Every manager I played under - about 21 - had their own qualities and strengths, so I can't pick out just one. But I have enjoyed working under every one of them including, international managers and some top quality ones.
I try to take snippets from each of them and would certainly try to implement them if I became a manager. You have to learn but also you have to be your own manager when you are in that position.
Man-management
For me the key is man-management, especially these days.
Since I started 20-odd years ago, and even up to eight years ago, man-management has changed hugely. It has become key with so many nationalities, so many cultures and personalities in the dressing room - you just can't deal with everyone in the same way.
You have to work out what makes players tick, what gets the best out of them on the training pitch and ultimately on the Saturday afternoon. So for me man-management is huge in the modern game and I believe that given the chance that would be one of my strengths.
We are coming into a crunch time of the season now and, perhaps, the manager's role is magnified. You have to try to lead them in the right way to get the best out of them.
The managers can be vital between being successful and failing. Ultimately the players have to do the job when they cross the white line but the managers can have a huge influence.
Some managers I have worked under don't say a lot at this stage of the season but some of the players will be shouting and balling. You just have to get that balance right: what makes your players tick? And what gets the best out of them?
Suitable
I believe in starting in a coaching role to learn how it all works for if and when I do move up. But you just don't know how it will turn out.
Some managers get chucked straight into it like Gary Monk, who has been given the reins at Swansea having had no management experience whatsoever.
Then you get other high-profile players who start at the bottom and then work their way up. I don't really know what would be a suitable role for me - I'd have to look at any opportunities that came up.
Sometimes jumping in at the deep end is the best way. You learn by your mistakes and you get on with it. I am certainly not a novice in the world of football.
I have listened and learned a lot over the last seven years to managers and if I was to be presented with an opportunity I don't think that would be a major problem.
I think it would be important to get an experienced coaching team around you who know the job inside out.
Fox in the box
It is always nice to get off the mark for a new team and it was great to score for Leicester at the weekend.
It was my fourth game in and it was the longest I have been on the pitch for so far - 25 minutes. It was great to get off the bench and get the winner at a tough place and keep our winning streak going.
We have now won nine on the bounce - a club record - and we are very pleased how it is going. We are in a really healthy position, which is vital going into the last part of the season.
The atmosphere was great when I joined the club, as you would expect of a team flying in the league, training is really good and all things are looking really good. But we can't get too carried away, or too complacent
I think Leicester only won one out of their last 15 or 16 at the end of last season so that shows what can happen if you take your foot off the gas and become complacent.
We have a good blend of youth and experience, and the pace that you need to succeed in the Championship, but credit has to be given to the manager, the staff and the players on the way they have come back from losing in the play-offs last season.
To go on the run they have done is great testament to the players and we have to do that from now until the rest of the season if we want to get promoted.