Leicester manager Nigel Pearson already planning for Premier League
Nigel Pearson says Leicester are already "well down the line" with plans to improve their squad for the Premier League.
Last Updated: 10/04/14 6:48pm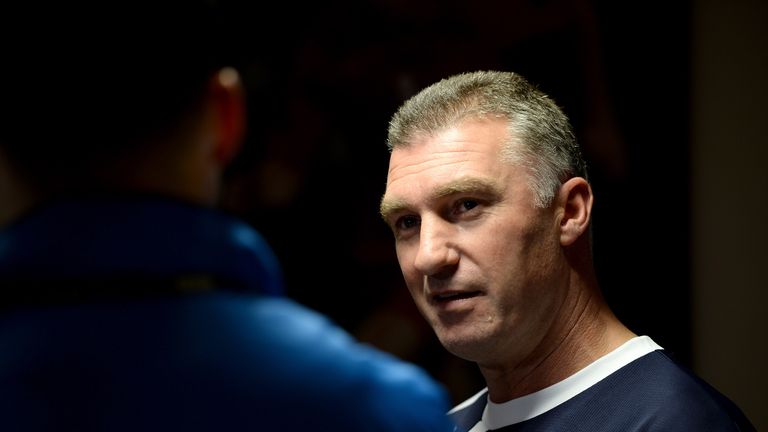 Leicester's promotion was confirmed last weekend when, after the Foxes had beaten Sheffield Wednesday on Friday night, QPR and Derby both lost the following day.
With the Sky Bet Championship title still up for grabs, Pearson insists the work is still far from over for his side - and the 50-year-old has already begun to plan for life in the Premier League.
He told Sky Sports News Radio's FL72 Weekly show: "I didn't really expect things to go our way at the weekend the way that they did but hopefully now people will enjoy the remaining games but with a focus as well. It's not party time, we want to finish the job off.
"It's the next chapter for us. We've been outside of the top flight for 10 years, and that's a long time for a club of this size to be outside of the top flight.
"We've got to go into it with a clear vision of how we want to approach the season. We're well down the line in terms of how we go about improving the squad but we have the nucleus of a very good side here anyway.
"It's important that we get our strategy right next season because it's an unbelievably tough league to be competitive in, but we've worked so hard to get there so the next step is to establish ourselves there.
"That won't be easy because it is a league with immense quality and we'll have to get our preparation right for the season, but first we've got to see this job through, try to go into the close season with some good form behind us, and then it'll be about how we move the squad forward.
"The type of player and the quality has to be right but it's going to be about adding to what we've got. It's not about changing the fundamental make-up of the squad, it'll be about trying to complement what we already have to make us competitive."
Frank Sinclair, who played in Leicester's last Premier League game at Arsenal in 2004, has been impressed by the Foxes this season but warns top-flight experience is crucial.
He said: "I'm pleased for Leicester, they've had a great campaign and they play great football. I've been to see them a couple of times this season and they play really attack-minded football, have scored some great goals and have broken all sorts of records for the club.
"Over the last few years they've been struggling but the new ownership made them more comfortable, and Nigel Pearson has done a fantastic job.
"He certainly has to make improvements, though. Some of these players have done fantastically well but you get punished a lot more in the Premier League than you do in the Championship for a mistake.
"To give yourself a chance you need to get Premier League-experienced players to help the squad out. I'm sure Nigel Pearson will know that and will have started his homework already."
You can listen to the full FL72 Show via the Soundcloud player below.