Nigel Pearson eyes win over Reading and wants strong finish from Leicester
Leicester manager Nigel Pearson wants his side to finish the season on a high by winning the Sky Bet Championship
Last Updated: 14/04/14 6:15am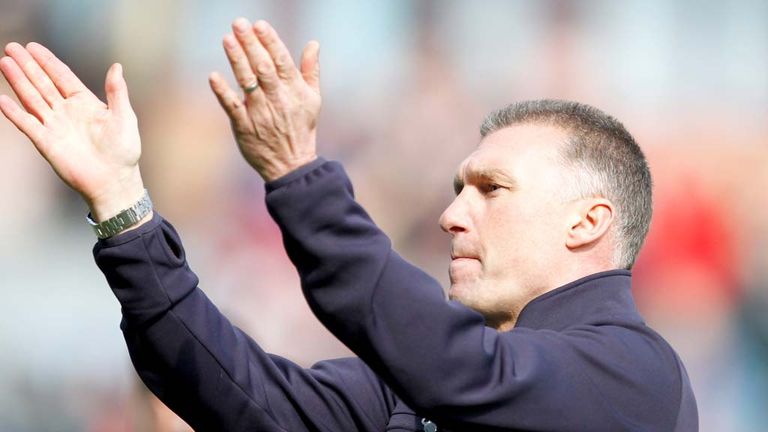 Pearson's side sealed a return to the Premier League last weekend after their win over Sheffield Wednesday but fell to a 4-1 midweek defeat at home to Brighton.
Second-placed Burnley's defeat at home to Middlesbrough on Saturday means they remain six points behind Leicester and Pearson says his side's sole focus must now be on winning the title.
"It's been about getting promotion this year, but you don't work as hard as we have to then let things fizzle out," he told the club's official website.
"I really want to push to get enough points to finish the season at the top and that is what it's all about.
"Everybody is disappointed with the outcome of Tuesday's game but it is important for us to move on. It was not in the script but it is an eye-opener for anybody who has success.
"We have got five games left now and there is still lots for us to play for.
"We have to be workmanlike; we can't just rely on our ability. We have to go out and work hard. It's about getting back to what we're good at and I want us to win the game."
Reading have Premier League aspirations of their own and are just a point of the play-off positions in eighth in the Sky Bet Championship.
Manager Nigel Adkins insists Reading must seize this opportunity and hopes his side can finish the season in the right manner.
"It's now a five-game season," he said.
"It's still in our hands, we have got five games left, I would back us in the play-offs if we get there, but it's in our hands.
"Everything that has happened so far has got to be put to one side and we focus with a desire to go and win five games of football.
"We will welcome the champions-elect to our stadium, they have been magnificent this season and they will play Premier League football next season and we have got to do our best to do the same."