Championship: Leicester boss Nigel Pearson says Premier League plans underway
Nigel Pearson says Leicester's Premier League plans have already begun following their promotion earlier this month.
Last Updated: 24/04/14 10:31am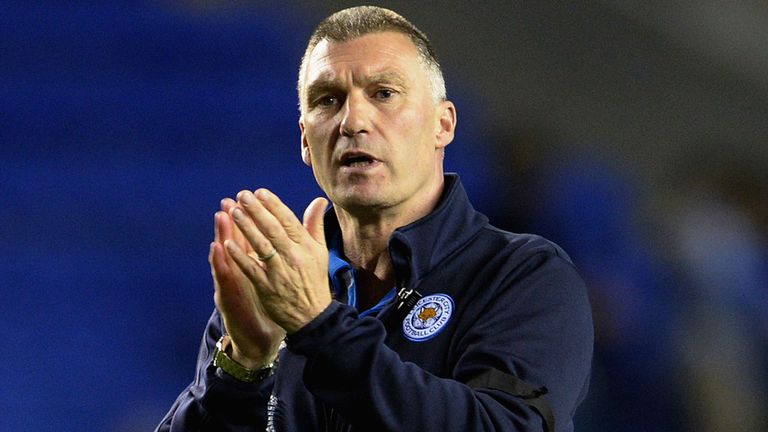 When Derby and QPR both lost on April 5, the Foxes knew they were promoted and could start preparing for life in the top flight next season.
However, Pearson claimed that the confirmation of their promotion earlier this month did not suddenly alter the summer plans for a manager who has been at the helm since November 2011.
Instead the ex-Hull City boss claims the work done over the past three years since he has been at the King Power Stadium will make the transition to the Premier League a simpler one.
"I'll have a chat with the owners at some point, I'm sure," said Pearson, who saw his team wrap up the Sky Bet Championship title at the Reebok Stadium on Tuesday night.
"But we're well down the line of how we take the club forward. People just think when you get to a situation where you get promotion all of a sudden you're caught on the hop and you need to start rethinking.
"We are in good shape as a football club in terms of the debt that we are managing, we are capable of managing the debt. We've got players with a value now whereas two years ago we had a very expensive side with not a lot of resale value.
"We've moved on on lots of different levels. We've earned the right to play in the top league, we'll spend money as wisely and carefully as possible to add to what is already a very solid foundation."
Most of Pearson's squad have been together for two seasons now and he sees no reason to make wholesale changes to a group which could yet accrue 100 points.
He explained: "There's not going to be huge, huge changes; the club's in a good situation.
"There's been a lot of work that's gone on behind the scenes to put us in better shape. Ultimately it's about what you do on the field and we've had a successful season on the field but we've also tried to move the club forward on lots of different levels as well."