David Nugent says Leicester are keen to show they can succeed in Premier League
Leicester City striker David Nugent has urged his teammates to prove they can hold their own in the Premier League.
Last Updated: 05/05/14 10:11pm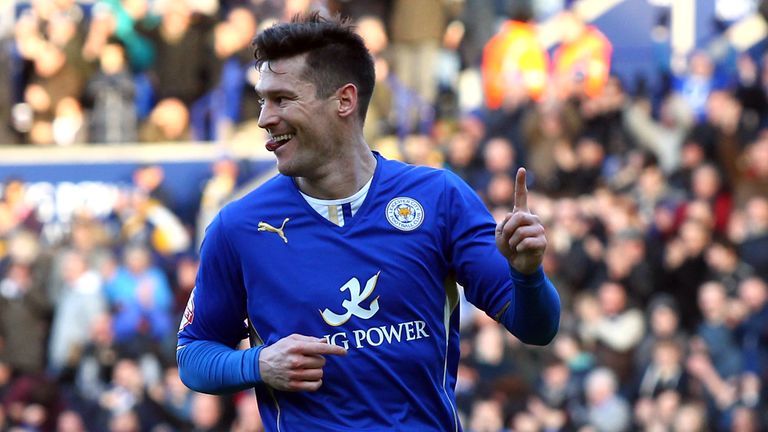 The Foxes have ended their 10-year absence from the top flight, finishing as champions of the Championship, and this achievement was marked by a parade in the town centre.
A final day win over Doncaster ensured Leicester ended on 102 points, well ahead of third-placed Derby, but Nugent is fully aware of how tough life can be in the Premier League.
The 29-year-old, who netted 22 goals this season, has mixed with the big guns during his spell at Portsmouth and admits he and the rest of the squad must raise their standards even higher.
Reflecting on the parade, he told Sky Sports News: "It shows how much is means to the fans and the club itself.
"They'll have been out all weekend celebrating this. We're just happy that we've done it for them. We've got them back in the Premier League after 10 years, so everyone's now really happy at the moment.
"That's where we want to be. The whole squad are excited about getting there and we want to show what we can do. We've done it in the Championship, now we've got to prove it in the Premier League."
Captain Wes Morgan also played a key role in Leicester's promotion push and is confident his side can survive, with the help of some summer signings.
"We've achieved a lot this season and to finish on a high, won on Saturday, and to finish on 102 points is absolutely unbelievable," he said.
"To be the captain of Leicester City to achieve that is a great feeling and we're enjoying the moment. There's been a lot of partying but next season we'll come back bigger and stronger and prepare for the Premier League."