Transfer news: Leicester City still hopeful of deal to sign Esteban Cambiasso
Last Updated: 14/08/14 6:40pm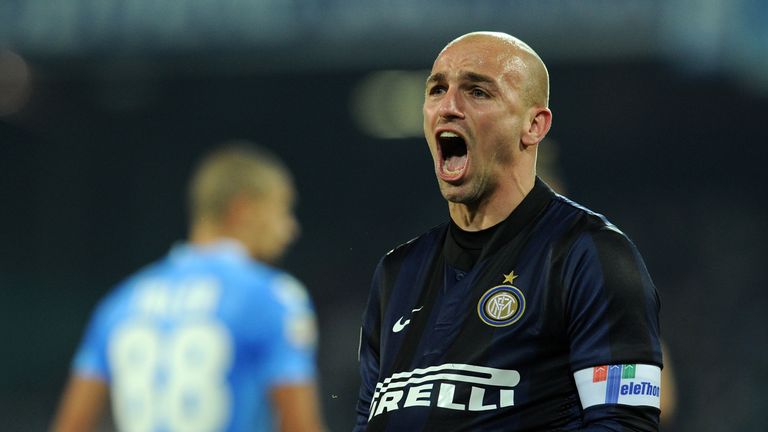 Leicester City boss Nigel Pearson remains keen on bringing Argentina midfielder Esteban Cambiasso to the King Power Stadium.
Pearson says negotiations with the 33-year-old are ongoing as he prepares his side for their Premier League return against Everton on Saturday.
He had been hoping to keep any deal secret until an agreement could be reached but news of the potential signing was leaked last week to a national newspaper, much to his annoyance.
"I don't know about Cambiasso," said Pearson.
"I don't take too much notice of the air waves. I've not denied our interest. It's something we will continue to work at.
"Whether deals can be done or not it will be based on a number of criteria. We'll work really hard to do the deals. I can't account for other circumstances intervening.
"We have an interest yeah. But my view on talking on other people's players [is] I don't. I don't have a track record of talking about speculation."
Even without Cambiasso, Pearson is confident his squad will be able to thrive in the Premier League after running away with the Championship title last season.
"I think it's dangerous to set your targets too low," he said. "It's very difficult to have a definitive answer to what might constitute a successful season.
"From a business point of view - and purely on a business level - survival would be an achievement. But, of course, I can't preach that as that would be under-selling what we have the potential to do.
"I feel we have a good squad with a good mix of experience and young players who, if they are brought through and nurtured in the right way and given time, will see us do very well in the Premier League.
"Our biggest strength is our team and group ethic. Alone, that's not enough, but we have a lot of quality in our side too.
"But the Premier League and the Championship are very different. Last season was a great success, but it's in the past. We're all very proud of what we achieved but it's about moving on and being a success in the Premier League now."