McCourt going nowhere
Paddy McCourt insists he is not leaving Celtic after being assured by manager Neil Lennon of his role in the team.
Last Updated: 09/09/11 9:09am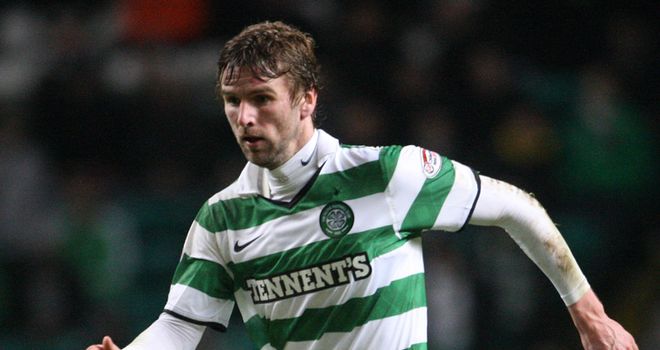 Celtic playmaker Paddy McCourt insists he is not leaving Parkhead after being assured by manager Neil Lennon of his role in the team.
The Northern Ireland international has consistently been on the fringe of the club's first team and has produced a number of eye-catching displays off the bench.
It had been suggested that McCourt requested a transfer prior to the window closing last month with Liverpool reportedly keen on his services.
The 27-year-old insists he is not going anywhere, although he accepts he is now at the stage of his career where he needs to be starting more games.
However, McCourt, who has appeared twice off the bench in the SPL this season, is fully focused on performing at his best and is not being side-tracked over a possible move.
Dream
"It's rare something would happen to you on transfer deadline day without you knowing so I wasn't going anywhere," he told the Daily Record.
"Of course signing for Celtic was my dream but, at the end of the day, I want to play more football. That has been at the back of my mind a couple of times but I've spoken to the boss and I'm very much part of his plans.
"It's obvious anyone would rather play regularly than be on the fringes of the squad for the duration of their contract and I'm no different.
"I've enjoyed my three years at Celtic but, as much as I love the club and being part of the club, I want to play. If I was to leave it would be with a heavy heart but it isn't going to happen so I'm fully focused on playing for Celtic."
Refute
Meanwhile, the exciting midfielder has refuted talk that he is a lazy or luxury player for Lennon, stating he does more running with the ball than anyone else.
"I definitely don't think I'm a lazy player," he continued. "If you look at the amount of running I do in a game with the ball I don't think anyone will come close to that.
"Maybe the defensive side of my game could be better and I'm not going to say I'm the complete player because I'm not. Like any other player I'm better at certain things than others but I don't let what people say about me being a luxury or lazy player bother me."