David Flitcroft finds Barnsley win over MK Dons hard to celebrate
Barnsley boss David Flitcroft admitted other incidents had taken the gloss off his side's 3-1 FA Cup win over MK Dons.
Last Updated: 17/02/13 9:21am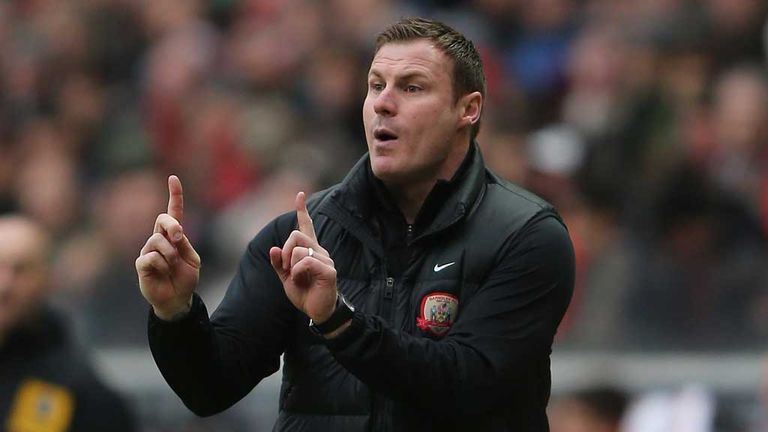 A Chris Dagnall brace and a Marlon Harewood effort saw the Tykes into the quarter-finals, but Flitcroft's thoughts were with midfielder Kelvin Etuhu, who was carried off after a clash of heads with Adam Chicksen.
"I think it threw my players quite emotionally, it can do that to a team," he said. "It worried me to be honest. When he came past me he wasn't unconscious but he wasn't responding initially.
"MK Dons' staff were impeccable and were very professional in the way they dealt with it. He has gone to hospital for a check but he is OK, he is stable.
"You certainly don't want to be involved in anything unsavoury and it certainly was. Kelvin is a tough boy and when you see him flat out on the pitch and coming past on a stretcher with blood strewn over his nose and face, it is something that will probably haunt me."
Flitcroft had also been informed of allegations one of his players had been abused by a home fan and he stepped in to defend him, with the supporter escorted out of the stadium as a result of other fans reporting him to stewards.
"I felt one of the fans was having a go at one of my players so I responded in the heat of the moment, I will protect my players to the hilt," he added.
"I think MK Dons are looking into the incident. I just asked if a gesture had been made could the man be taken out of the stadium.
"The result meant everything, there has been so much detail and planning over a week now and we have put a lot of effort in.
"I have asked the players to sacrifice seeing their families and we went to see Doncaster against MK Dons, and I'm absolutely delighted with the players. The first half was a master-class."
A joint statement issued after the game by the two clubs read: "Milton Keynes Dons Football Club and Barnsley Football Club are currently liaising with Thames Valley Police regarding an alleged offensive gesture made by a spectator at today's FA Cup match.
"The spectator in question has been interviewed by Police; currently Thames Valley Police have no evidence to suggest the alleged gesture was of a racist nature. MK Dons will continue to monitor footage of the area where the alleged incident took place."