FA Cup: Barnsley boss David Flitcroft looking forward to Manchester City trip
Barnsley boss David Flitcroft is relishing the chance to lock horns with Manchester City in the FA Cup quarter-finals.
Last Updated: 17/02/13 8:17pm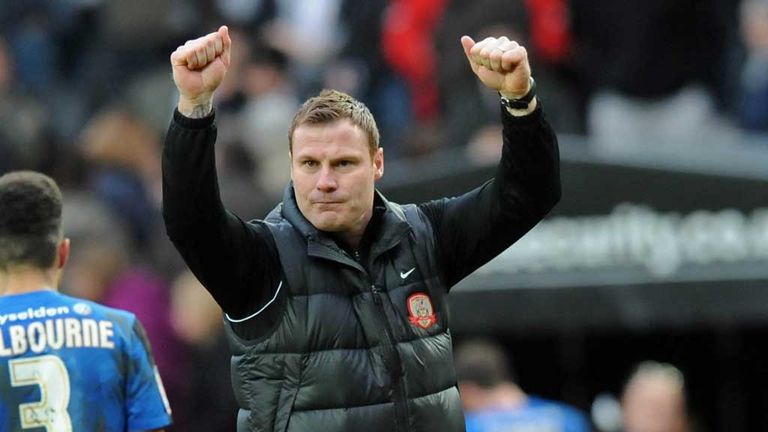 The Championship side were rewarded with a trip to the Etihad after beating MK Dons 3-1 in the fifth round on Saturday.
Flitcroft, whose brother Gary is a former City player, told Sky Sports News: "Wow there are a lot of emotions going through my head.
"The group of players that I am working with at the moment and the staff and the football club and the supporters, they deserve to get a tie of this magnitude.
"We are going to the champions of this country and I will be proud to take my players to that stadium.
"The lads have deserved this and we will make sure they go there and enjoy the day and the experience. But we want to go there and give a good account of ourselves and try and cause a cup upset.
"This is a cup of dreams, a cup of heroes and I do dream. I hope we will give a great account of ourselves and I am really excited to lead the club on this occasion. And as a coach to pit your wits against one of the world's best that excites me as well."
Flitcroft's side are currently enjoying a fine run in the Championship and he is now focusing on Tuesday's home game against Wolves.
He added: "It is something we have done very well - refocusing and focusing on the league campaign and then focusing on the FA Cup.
"We have got an important game against Wolves. There are still 15 games to go in the league and we are in great form.
"It's just now how we take away the excitement of what is to come and really focus on the league. I will be asking these players to make big sacrifices and I am hoping we can regroup the boys and make them focused on what the job is, which is the league campaign."