David Flitcroft targets FA Cup upset in family affair at the Etihad
Barnsley boss David Flitcroft is hoping to cause an FA Cup upset against the club his brother used to captain.
Last Updated: 09/03/13 4:36pm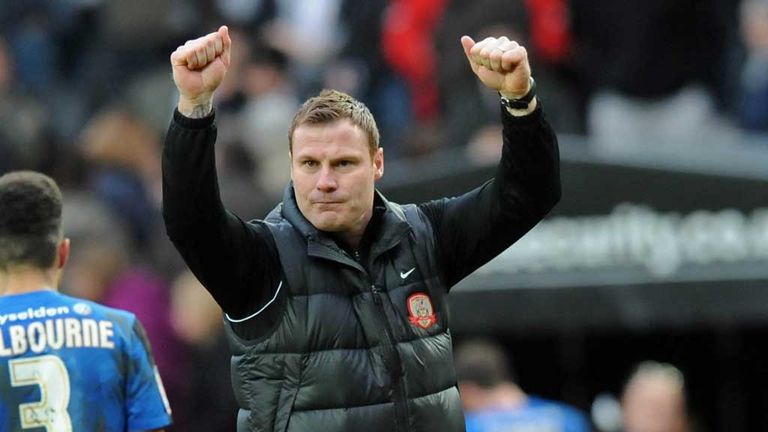 Garry Flitcroft skippered Manchester City in the 1990s, watched from the stands by David and his proud mum and dad.
Garry will not be at the match as he will be on duty as boss of non-league Chorley.
But both he and David have two sons and the four boys will be involved in a unique sporting contest at half-time at the Etihad.
"My sons Bobby and Billy are Barnsley mascots," David said. "Garry's boys, Alfie and Tom, are City mascots and they're going to play in a game against each other at half-time.
"They're going to have a bit of a tear-up. My two have been doing their fitness work! They want to be ready for it. Bobby and Alfie are in the same class at school. Bobby in Barnsley colours and Alfie in Man City colours. We're looking forward to that.
"Wherever our Garry played I went watching. We went all over the show with mum and dad.
"I enjoyed City, I enjoyed the environment and the fans. They're an incredible group of supporters, who stayed loyal to a club that went down to the lower leagues.
"The City fans followed them everywhere and I loved that about them. I remember once watching Paul Stewart when he got carried from the pitch because he'd run himself into the ground.
"That was something that left a massive impression on me. I loved the work ethic at City and how they brought the young players through and our Gaz was the catalyst at the time.
"He was one of the players who came through the Paul Lake era, Garry, the Brightwells, David White, Steve Redmond.
"It was a City team I enjoyed watching and being a part of, and being a Garry Flitcroft fan you turn into a bit of a Man City fan."