FL72 Weekly: Neil Collins, Luke Steel, Kevin Phillips and Mark Waburton interviewed
Sheffield United's Neill Collins, Barnsley's Luke Steele and Leicester's Kevin Phillips are on the new FL72 Weekly show.
Last Updated: 13/03/14 2:37pm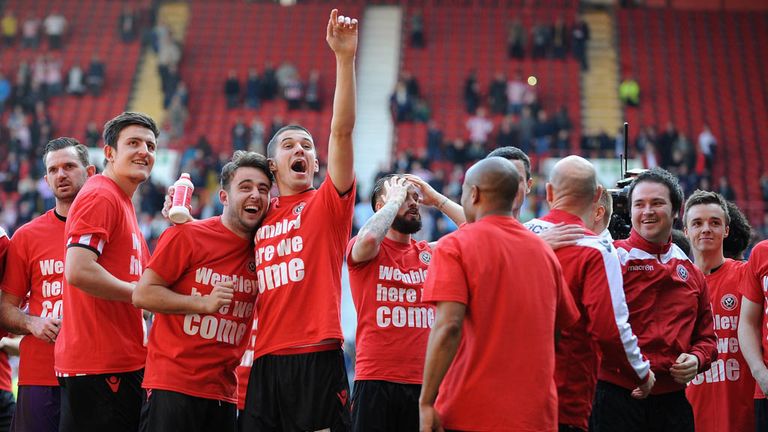 United were in the Sky Bet League One relegation zone with only nine points from 13 games when Clough was appointed in October and, although the improvement was not instant, the former Derby boss has managed to lead the club to an FA Cup semi-final and the edge of the play-offs on the back of a 10 game winning run.
Collins told the latest FL72 Weekly show on Sky Sports News Radio: "The manager has done well and been able to change the team around.
"He's definitely made changes at the right time and the boys that have come in have done well so the whole squad has this momentum of playing well and picking up wins.
"He (Clough) has not come in and tried to make wholesale changes, he's just gradually tweaked things here and there. He's got to know the squad and over time has stamped his influence on the team.
"He's found a way of playing that suits the players we've got - that's gradually developed over time - and now we've all got a clear picture in our heads how we want to play.
With 13 games to play, United are currently 11 points behind sixth-placed Peterborough, but with two games in hand and a winning habit, many observers outside of Bramall Lane are tipping the South Yorkshire side to sneak a play-off spot.
Collins, however, is not getting carried away.
He added: "I don't think I've ever experienced a more up and down season in my career. Some of the lows have been very low but now the highs are fantastic with the chance to play in an FA Cup semi-final.
"On top of that, the league form is massively improved as well. We've managed to move ourselves right up the table so hopefully we can go from strength to strength.
"When you're winning you feel as though every game is another opportunity to get three points or get to the next round in the cup.
"We're not getting carried away, though. It'd be a monumental effort (to make the top six) and there are some other good teams ahead of us that need to drop a lot of points.
"The biggest thing that the manager has done is focus very much on one game at a time; we've taken every game on its own merits and we'll be doing the same. If we keep winning we'll obviously have an opportunity but being honest that would be a big ask of us. But it won't be for the lack of effort."
Also this week, Mikey Burrows was at Oakwell on Tuesday night to watch relegation-threatened Barnsley host promotion-chasing Leicester, with fans and journalists from both clubs giving their thoughts on the two sides' respective aims.
After the game, meanwhile, Leicester striker Kevin Phillips admitted his team-mates can "almost feel the Premier League" after their latest 3-0 win.
He said: "That's three games in a row now that we've scored three goals and kept clean sheets.
"We're a good footballing team but we can mix it up as well because we had to deal with an aerial threat (against Barnsley) and the back four dealt with it. We got the ball down and we played; we've shown we can mix it up with everyone in the league.
"There's light at the end of the tunnel, they can almost feel the Premier League, and it means a lot to these players. Some of them have not played in it and I can give them my experience - it's the best league in the world. We're very close."
Barnsley goalkeeper Luke Steele has just as much confidence that his side can win enough games before the end of the season to once again stave off relegation.
He said: "If you haven't got belief you might as well give up. There are many players in this team that have been through this before, which is hopefully a good thing come the end of the season.
"We still believe but we're taking it one game at a time. If you think of it as a whole season coming down to these last 10 games it becomes too daunting so if you take it one game at a time it becomes a lot easier.
"It's only two points that we're adrift of the safety mark at the moment so that's something to be positive about.
"I don't think the points tally (needed to stay up) is going to be as high. We ended up with 54 last year and only stayed up by one point but I don't think it's going to be as high this year.
"There are plenty of teams in that relegation battle, even Blackpool, Birmingham and Doncaster, they can still be pulled in. With 12 games to go there are plenty more points to play for and there will be some upsets."
To hear more from Collins, Steele and Phillips, plus former Sheffield Wednesday defender Andy Hinchcliffe on the two Steel City clubs, and Brentford manager Mark Warbuton on adapting to life in football and coping with the pressure of a promotion race, download the full FL72 Weekly Podcast or listen via the Soundcloud player below.