Sky Bet Championship: Watford can improve after Barnsley win, says Giuseppe Sannino
Beppe Sannino feels his Watford side can improve even further after beating Barnsley, while Danny Wilson was frustrated.
Last Updated: 15/03/14 7:05pm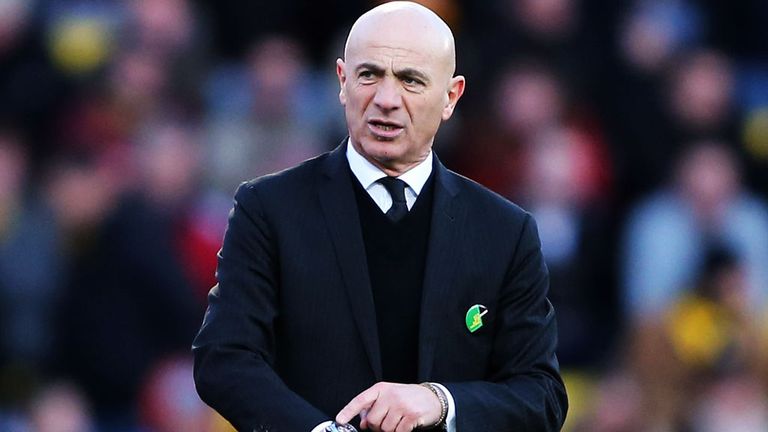 Goals from Cristian Battocchio and Troy Deeney put the Hornets in the driving seat inside the first 20 minutes and the hosts were rarely troubled before Alexander Merkel made it three with 16 minutes remaining.
The win came after Watford were beaten by a last-gasp goal at Doncaster on Tuesday and Sannino was pleased his side moved on from that result quickly.
"It's a good win because through this game we can forget Doncaster," he said.
"I'm pleased about the performance of the guys because they were able to give some cheer to the crowd, but I am demanding guy and I think we could improve.
"I think that Barnsley were facing a team very angry today, I don't think they were poor.
"I'm the kind of coach that even when we win, I don't watch only the positives of the performance.
"I'm pleased with my players because they did what I asked them to do and when I say we can improve I'm complimenting players because I think we can improve, not because we didn't do a good job today."
The defeat leaves Barnsley bottom of the Sky Bet Championship table and three points adrift of safety.
Boss Danny Wilson admitted his side made it hard for themselves after conceding so early.
He said: "That just knocked us for six. We came with a game plan and we knew exactly what we wanted to do, get the ball down and cause them some problems, then we got hit with a sucker punch within minutes of the start of the game.
"It was a poor, poor goal to give away and defensively it was suicidal and then to concede the second one.
"It's very, very difficult when the team's in the ascendancy and Watford's home record is fantastic. It was always going to be difficult to get back into it.
"We showed a little bit more fight in the second half in terms of our forward play but we were always going to be vulnerable."
Wilson admitted a lot of home truths had been spoken in the dressing room afterwards.
He added: "There's been a lot of very candid words spoken and there needed to be.
"We've got some good games coming up, this season is far from over and but they're going to start believing what people are writing about us then it will be over.
"We've got to have an inner strength, a little cocoon around us if you like and make sure we don't take it to heart and really believe we can stay up."