Sky Bet Championship: Barnsley boss Danny Wilson accepts blame for relegation
Barnsley boss Danny Wilson has taken full responsibility for the club's relegation to Sky Bet League One.
Last Updated: 01/05/14 6:27pm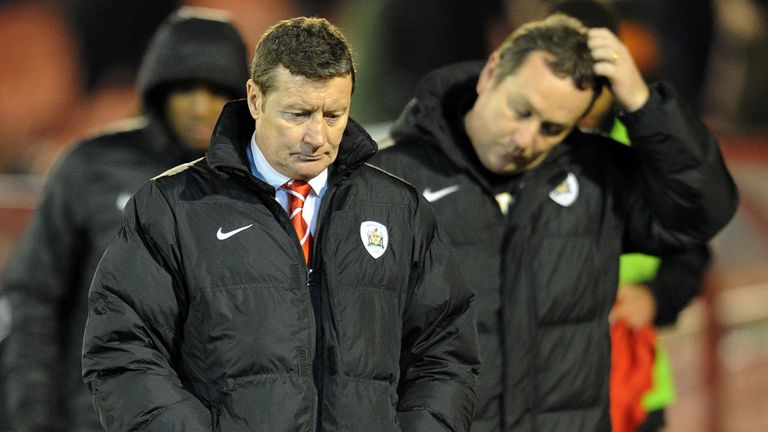 The Reds spent eight seasons in the Championship, but narrowly avoided the drop in five of those and during that time never finished higher than 17th.
Wilson led the club to the Premier League for the first time in 1997 in his previous spell as manager, but last week's defeat at Middlesbrough condemned them to the third tier.
"Do you want me to blame somebody else?" Wilson said. "No, I was at the helm. It's down to me, nobody else.
"People will turn round and say 'well you did this' or 'it's not your fault'. Yes, it is my fault.
"I'm manager of a football club. Whether I was here when they were at the bottom of the league or before, it doesn't matter, I'm here.
"And I'm hopefully going to rectify it next season by giving a bit of pride back to the football club."
Barnsley had won only three league games when Wilson replaced David Flitcroft in December.
Wilson, whose previous clubs in 20 years as a manager include Sheffield Wednesday, Bristol City, MK Dons, Hartlepool, Swindon and Sheffield United, drafted in seven new players during the January transfer window, four of them on loan.
"The loan system works sometimes, but sometimes it doesn't. It's a gamble," Wilson added.
"When you see the position we were in, we had to make changes, there's no doubt about it.
"It needed fresh faces to be brought in, a new approach, a brightness and a spark and the fans needed that as well.
"They didn't want to see us do nothing and just sit on our hands, they needed to see a change and you had to be brave to do it.
"Whether people see me as brave or stupid, that's up to them.
"But it needed change and that's what we did and it gave us a chance quite honestly.
"At the end it was too much for us, but it gave us a chance."