Thorn proud of City away win
Coventry boss Andy Thorn hailed his side's performance as they recorded their first away win of the season at out-of-sorts Hull.
Last Updated: 31/03/12 7:48pm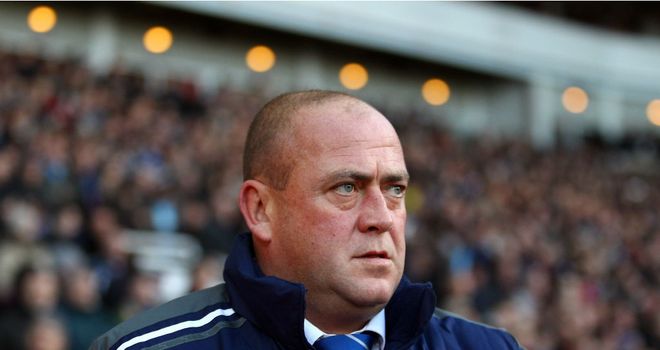 Coventry boss Andy Thorn hailed his side's performance as they climbed out of the relegation zone in the Championship for the first time since October thanks to a long-awaited first away win of the season at out-of-sorts Hull City.
Liam Cooper's own-goal put Coventry in front after 12 minutes and substitute Cody McDonald wrapped up the win to take his side out of the bottom three and above relegation rivals Bristol City.
City are now unbeaten in six and having recorded back-to-back wins for only the second time this season, are hitting form at just the right time as the campaign reaches its climax.
Amazing
"It has been a long time coming, but it feels like a weight has been lifted off us," admitted Thorn.
"If you look at how far adrift we were at one stage, it's an amazing achievement to be where we are now.
"We just want to kick on now. There's a real buzz in the dressing room and we're determined to go on.
"We put in the endeavour and work again today. We've stuck at it and got some real momentum going now, and we'll try to remain unbeaten until the end of the season.
"It was a really mature and very professional performance against a good team.
"I thought it was a 'growing-up' performance'. It was a really solid display and it was a superb day for us.
"We knew they would come out of the traps quickly in both halves, but with the first goal, we have been working on our deliveries from set pieces.
"It was important we stayed strong and solid. I told the players that the game would open up eventually and we'd be able to play a bit more.
"Then Cody's finish was worthy of winning any game."
Hope
It was a fourth successive defeat for Hull, who have seen their play-off charge hit the buffers and are now five points adrift of the top six although manager Nick Barmby has not given up hope of turning his side's season around.
"At this stage of the season, lots of teams seem to be losing games, and we won't give it up," he said.
"I'm proud of the players for their attitude and commitment and the way we went about things in the second half.
"We're in a bit of a rut at the moment, but if we show that sort of attitude we'll get out of it, no doubt about that.
"It is about having the right attitude and wanting to get on the ball. As long as we stick together we're not bothered about what other people say."
Central defender Jack Hobbs hobbled off with a knee injury that set to rule him out for the rest of the season, and Barmby confirmed: "He's opened up his knee, and it's tragic for the kid because he's been outstanding for us.
"With James Chester also out, we had two centre-halves (Cooper and Sonny Bradley) who came in and did very well."