Hull boss Steve Bruce says it took guts to win promotion to Premier League
Hull boss Steve Bruce admitted he was emotionally shattered after watching his team secure promotion.
Last Updated: 05/05/13 10:56am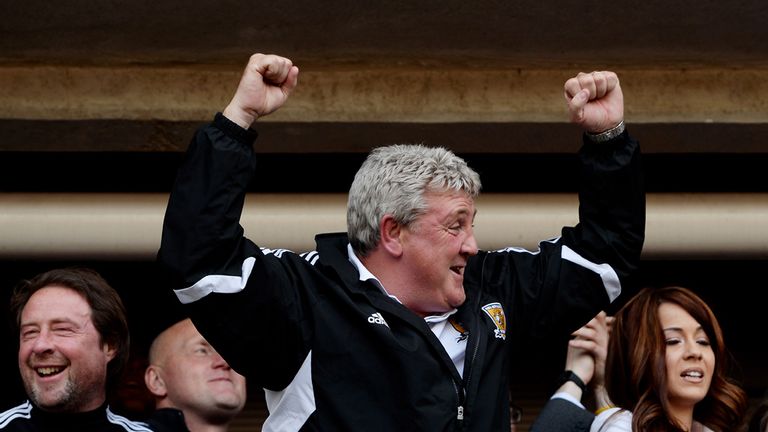 The Tigers conceded an injury-time equaliser to Cardiff at the KC Stadium, their game finishing 2-2, meaning Watford had 15 minutes to find a goal to beat Leeds.
Bruce and his squad watched the final minutes of Watford's game on television, before exploding into celebrations when Ross McCormack scored an injury-time winner for Leeds to ensure the Tigers joined Cardiff in the top flight.
"I have been around the block and this was wonderful entertainment, but it's put us through the ringer," Bruce told Sky Sports.
"Overall we deserved it. The ref gave them an unbelievable decision to give Cardiff a penalty but it's our day. I would like to say well done to Watford who pushed us all the way."
At 2-1 up and in injury-time, Hull missed a penalty and then looked on in horror as Cardiff won one of their own and scored it.
"It took guts for us, they rolled their sleeves up and have put in a real shift," Bruce said.
"We had heard Watford were 2-0 up and they weren't - we could have put it to bed. How many chances have we had? We had a penalty and missed it. This is totally ridiculous.
"I have said for weeks there would be twists and turns. I have never experienced anything like the last 10 or 15 minutes.
"The 10, 12 minutes was just ridiculous and having to wait. We've seen people in tunnels, people walking in corridors, people hiding in toilets, it was just really incredible.
"And for Leeds to score, it was just remarkable and just shows you how difficult a league this is.
"I don't think I've ever been supporting Leeds but wow - for Leeds United to do it for me is remarkable," added the former Manchester United star.
"It's been a really, really fantastic effort by everybody concerned."
Bruce's players admitted they could scarcely believe it. "I thought it was over and was thinking of the play-offs," said Paul McShane. "I couldn't have written this better. We made it hard but we saved the best until the last day."
Team-mate George Boyd was one of those who hid in the changing rooms, and said: "I couldn't watch it.
"Leeds have done us a massive favour and well done to them for putting on a show. They could have easily thrown it in but they did us a favour."