Premier League: Newcastle keeper Steve Harper talks about feeling depressed
Newcastle United keeper Steve Harper has revealed he was 'probably a little bit depressed' earlier in his career.
Last Updated: 17/05/13 9:58am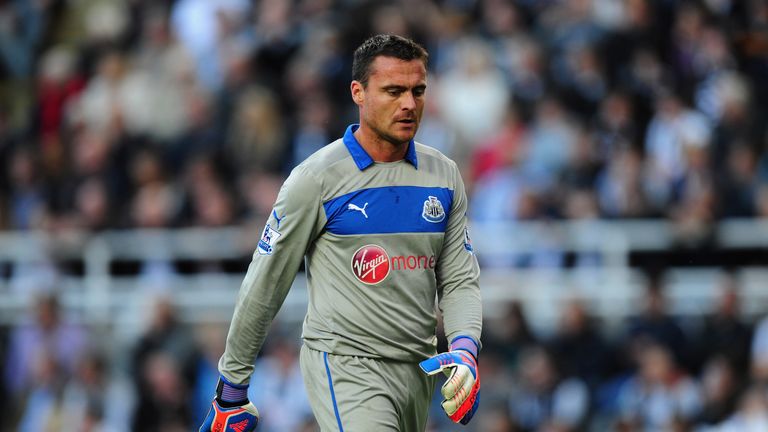 The 38-year-old has played almost 200 first-team games for Newcastle and recently confirmed he will be leaving St James' Park at the end of the season.
In the absence of the injured Tim Krul and suspended Rob Elliot, Harper will bow out against Arsenal at home on Sunday after 20 years on the Magpies' books.
For large periods of his time with Newcastle, he has been the back-up keeper and Harper acknowledged there have been dark periods during his career.
"I was struggling, really struggling," said Harper in The Independent, reflecting on a point in his career eight years ago.
"There have been times when it has been anything but comfortable. The way I got through it was with the support of my family and particularly Lynsey, my wife; by going to see a little old lady, a counsellor, and with medication from the doctors.
"It helps you through it because it was very tough and the more you try to fight it yourself, it gets a hold of you.
"They were tough times. It seems to be a bit more open now about these things but I probably was a little bit depressed back in that time.
"It's only right that players admit to suffering. I was about 30 at the time, and it was really tough. You need help. You can't fight it yourself. You have to speak to people and get help.
"Having had that tough time, I like to keep an eye on players now who I think are struggling. I have gone up to somebody and said, 'Are you alright?' And they've gone, 'Yeah, yeah'. And I've said, 'No, are you alright? Listen, I've had a hard time once, let me know if you're struggling. I'm here for you'."