Premier League: Hull City striker Danny Graham undeterred by criticism
Hull City striker Danny Graham has outlined his determination to end his 20-game scoring drought.
Last Updated: 14/09/13 5:08pm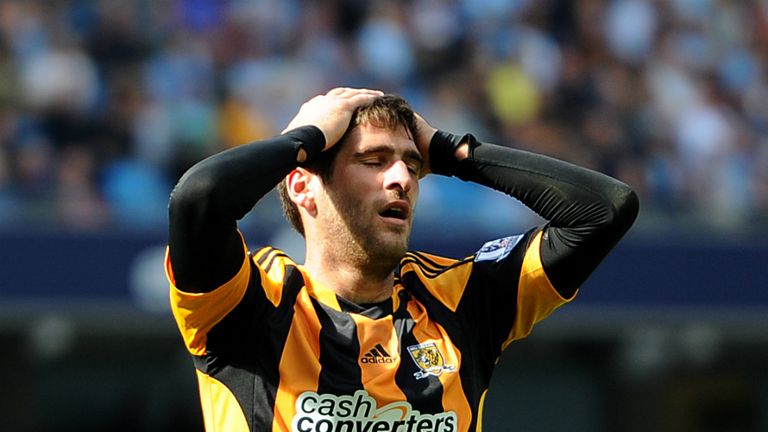 The 28-year-old joined the Tigers on loan from Sunderland at the start of the season, but has failed to score in his first three outings.
Graham moved to the Stadium of Light in January from Swansea, where he enjoyed a spell as the third most prolific English striker with 12 league goals before going 20 competitive matches without a goal.
However, despite enduring 1,146 minutes of Premier League football without finding the net, the forward insists he is never short of confidence in his ability.
"You can't sulk because you will dig yourself down even deeper and lose confidence," he told the Daily Mail.
"I don't listen to the good stuff and I don't listen to the bad stuff. I just get on with it.
"I am always confident I will score goals. It just didn't happen at Sunderland. At Swansea, I didn't score for 11 games and still ended up with 12 league goals. Once one goes in, that'll be it.
"Fans only look at the goals and assume you're not trying. Life goes on and this is a fresh start. A lot went on at Sunderland with all the Newcastle rubbish and 'he hasn't scored'. It is nice not going into games and training every day with that stuff on your mind."
The Gateshead-born striker flew in from Sunderland's Italian training camp in the summer to meet with Hull manager Steve Bruce and concedes there was an instant rapport between the pair.
"I just had a daft top and tracksuit bottoms on for travelling," he explained. "I walked in and he hammered me for the tracksuit. I just thought, 'yeah, I like this sort of guy'.
"Steve Bruce is good - a proper football man who loves the game. Hands on, good sharp training, a lot of possession and work on the strikers. He likes the lads to have a laugh but at the same time work hard and he has been superb with everyone. We're all onside, definitely.
"At Swansea, with Brendan Rodgers, training was sharp: possession, drills, everything done for the players. A lot of foreign coaches are 'shape this, shape that'. I would not shout anyone down for how they want their players to do things, but a lot of the managers I have worked with just let you get on with it and trust you. I think you see the benefits on the pitch."
Graham's move to Sunderland came shortly after the arrival of Michael Laudrup as Swansea manager and despite missing the opportunity to pick up a Capital One Cup winners' medal and play in Europe this season, the frontman insists he has made the right decision.
"I have no regrets at all," he added. "I wasn't playing and I probably wouldn't have played in the final. Different managers have different ideas. I scored four in four and then Nathan Dyer played up front against Everton away in the fifth.
"I knew then I wasn't going to be playing. You can't put a winger up front when your striker has scored four in four.
"I could have quite happily sat around but I learned from a very young age you need to play. It's massive and I knew it was time to leave."
Returning to the issue of scoring his first goal in Hull City colours, Graham remains in rather jovial spirits about the subject.
"Cardiff would be a nice one to get off the mark, eh?," he joked. "If not, there is always Newcastle away next week."