Capital One Cup: More bad luck at White Hart Lane hurts Hull boss Steve Bruce
Hull boss Steve Bruce could not hide his disappointment after more spot-kick woe suffered at White Hart Lane.
Last Updated: 31/10/13 12:06pm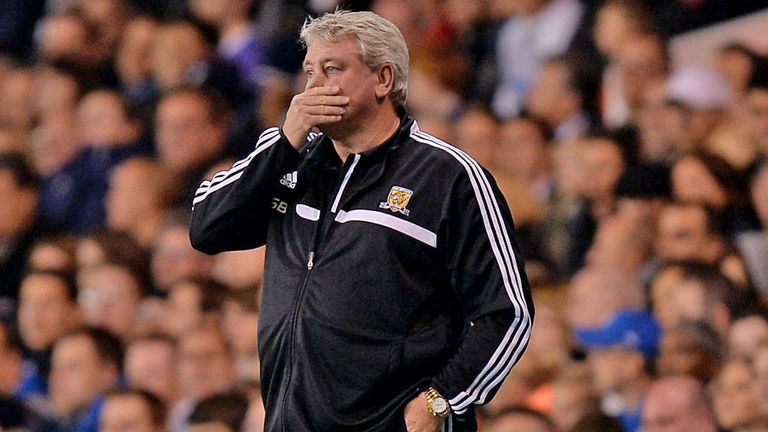 Three days after a controversial penalty sealed a 1-0 defeat at Tottenham in the Premier League, Bruce's battling Tigers were dumped out of the Capital One Cup by the hosts.
Spurs squeezed through 8-7 in a penalty shoot-out, ending a miserable 72 hours for the visiting manager who has been charged for comments at the weekend and he was angry again when Kyle Walker avoided a booking for a clumsy tackle on Stephen Quinn on Wednesday night.
"I've not really had much luck here in the last couple of days," Bruce said. "But the team showed their resilience and what they're about. I thought we were going to do it when we scored in extra-time, but it was not to be."
Regarding Sunday's penalty decision by referee Michael Oliver, he added: "It was a joke decision. I have to ask the question, would we have got it? In my opinion, he (Oliver) couldn't wait to give it."
The former Manchester United centre-back feels the charge is unjust, especially as he says referees chief Mike Riley had told him that Oliver had messed up.
"I've been charged," Bruce said. "Mike Riley rang me on Monday morning telling me they've made a huge mistake. What am I supposed to say?
"I thought the referee today was tremendous. We like to see what we've witnessed today and let's not lose that. What is the law and what is it supposed to be? I'll argue my case. It will cost me a few quid, but I'll do it."
Bruce claims Hull games are not officiated by the most high-profile referees.
"We don't get the big referees. Are we not as important as the big clubs?" he said. "Although I suppose Michael Oliver is supposed to be one of the top referees but I can't seem to remember Howard Webb coming to Hull very often.
"We've had a bad decision and a bad couple of days but we'll see what the FA say."