Hull City fans vow to continue campaign against renaming
Hull City supporters have vowed to continue their campaign against the club's planned rebranding by owner Assem Allam.
Last Updated: 01/12/13 2:30pm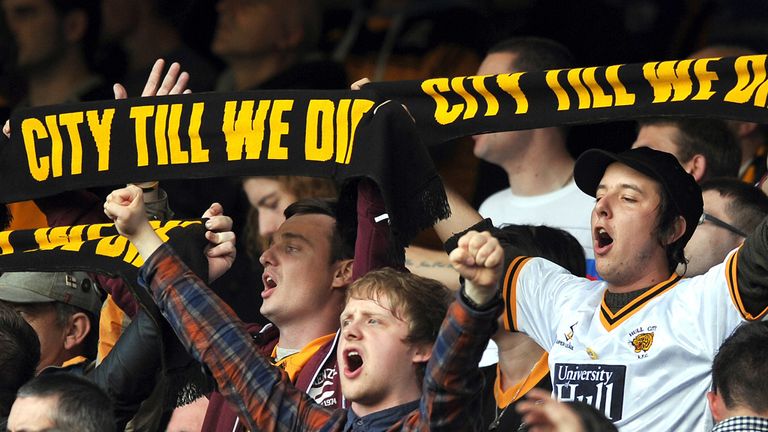 And the 'City Till We Die' fans group has called claims from Allam that their actions are tantamount to hooliganism as 'ill-informed and offensive'.
Allam, who wants to rename the club Hull Tigers, inflamed tensions with fans after telling those who oppose his plans that they can "die as soon as they want".
The proposals have been met with protests inside and outside the ground and recently stewards unsuccessfully attempted to confiscate a "WE ARE HULL CITY" banner during last week's defeat to Crystal Palace.
A statement from the fans' group read: "Thankfully, hooliganism at football in this country is now exceedingly rare.
"The intemperate suggestion that singing "City Till I Die" or holding a banner with Hull City's name on it constitutes disorder is ill-informed, unhelpful and will be considered by many to be offensive.
"Nor is it credible to believe that such measured actions will have any effect whatsoever upon the team we so admire. We reiterate our advice to all City fans to continue their fine support for our fantastic team while positively expressing a preference for our current name."
The group harbours hopes of continued dialogue with Allam and has begun exploring the possibility of a supporters' trust taking an active role in the running of the club.
The statement continued: "With all available evidence suggesting that a considerable majority of Hull City AFC supporters favour retaining our current name and with no benefits to a change having been proven, we urge the club to respect our historic identity so that we can all ensure our 109-year-old name is kept for future generations.
"We welcomed Dr Allam's promise to consult the fans before requesting any change of name, and we would be more than willing to lend assistance with this and other issues.
"City Till We Die remains committed to working with the club on this issue and others that affect us all.
"We are particularly mindful of Dr Allam's comments when he took over the club in 2010 about broadening supporters' representation at Hull City AFC.
"We are keen to assist the club with establishing this and the first steps towards this are being explored at present."