Premier League: Leon Britton recalls Swansea's priceless win over Hull in 2003
Leon Britton believes Swansea and Hull enjoy a "special rapport" which dates back to a significant fixture in 2003.
Last Updated: 08/12/13 1:35pm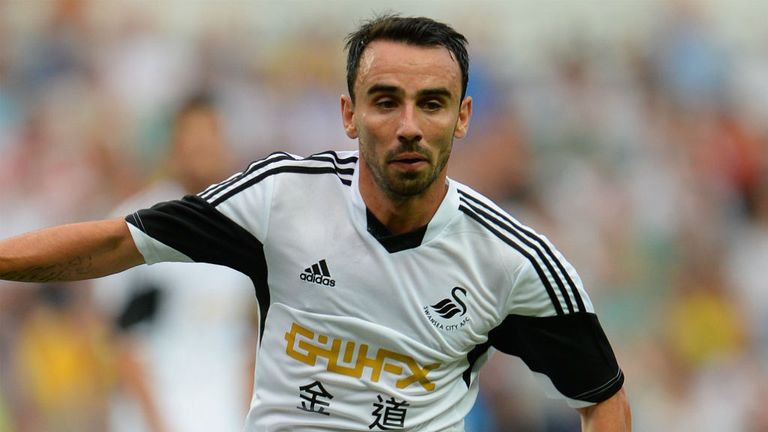 Swansea were on the brink of being relegated from the Football League in May 2003, but a James Thomas hat-trick inspired a 4-2 win over the Tigers that effectively saved the Swans from financial oblivion.
Over a decade on, the two teams will face each other in the Premier League for the first time on Monday Night Football, and Britton claims the two teams will continue to be united by a special bond.
"We've played Hull a few times over the years, but every time it evokes the memories of that day because it's arguably the biggest and most important game in Swansea's history," said Britton, who played in the vital game in 2003.
"We'll always have a special rapport with Hull because of that game. It will make Monday that much more special.
"It will be a great day for both clubs. Considering that game in 2003 and the fact 10 years ago we were both fighting in the bottom division, it's brilliant that both of us are playing in the Premier League on Monday night. It will be a special night.
"Anything is possible in football as long as you have the right people behind you. Swansea have had the right board, made the right decisions and had good players along the way.
"It shows you don't have to whack a lot of money into a football club to achieve success. We've done it in a different way."
Recalling the basement battle 10 years ago, he added: "I just remember the build-up to the game and how anxious everyone was.
"But we had a dream start, went 1-0 up and the crowd was bouncing. Yet within 15-20 minutes we were 2-1 down and the atmosphere changed completely. You could hear a pin drop.
"That day was a range of emotions. The over-riding one was of relief when we got to 4-2 and the referee blew the final whistle.
"But the Premier League is a completely different pressure. Back then, you were talking about people paying for mortgages, players with families and no one knew what was going to happen.
"The majority of players - except one player - all had their contracts up so everyone was playing for their futures.
"If we'd lost that game no one knew what would happen. Financially, the players are well rewarded in the Premier League so you don't have to worry too much on that side of things.
"The pressure back then was a lot more intense with what was on the line for the players."
Watch Swansea face Hull live on Ford Monday Night Football - coverage starts at 7pm on Sky Sports 1