Premier League: Steve Bruce reflects on Hull City's 6-0 mauling of Fulham
Steve Bruce admits Hull City enjoyed an 'incredible' afternoon as they hammered Fulham 6-0 at the KC Stadium.
Last Updated: 29/12/13 11:10am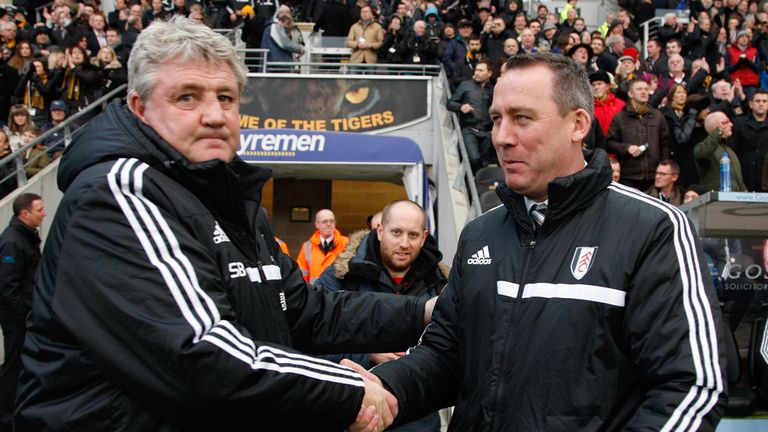 A comprehensive victory for a side that has hardly been brimming with goals this season was made all the more remarkable as all of their efforts arrived in the second half.
Fulham had frustrated the hosts for 49 minutes, with former Hull loanee David Stockdale providing a resolute last line of defence for the visitors.
He was, however, to end up on the wrong end of a mauling, with the Tigers baring their teeth on home soil to provide the perfect end to a memorable 2013 for the club.
Asked for his take on proceedings, Bruce said: "I said to Steve Agnew when Stockdale made the double save which led to the corner, 'It's going to be one of those days where Stockdale is going to come back and be the hero'. How wrong was I?
"It's quite incredible really. The first one and then all of a sudden the floodgates have opened, which doesn't happen very often at this level but we'll take it.
"I can't remember ever having an afternoon like it. When it comes along and it happens, obviously you grasp it."
He added: "Even in the first half, I can't remember McGregor having a touch of the ball. We were comfortable, we just needed to score one. How often have I said that?
"The hard part is scoring - we've scored eight goals in two games here, it doesn't make sense. For me, we try to analyse football a bit too much.
"This was one of the great days we will remember for a long, long time because, in my experience, it doesn't happen very often that you go and win 6-0 in the Premier League."
Bruce can point to the changes he made to a side edged out 3-2 by Manchester United on Boxing Day as having helped to make the difference, but he also feels that Tom Huddlestone was instrumental in making the Tigers tick.
He said: "We changed the system, brought (Robert) Koren and (George) Boyd in for a bit of freshness as one or two had a knock, they scored and it's one of those days where everything goes for you. The people who deserve it are the players.
"I don't often pick out individuals, but I don't think I have witnessed a performance as good as what I have just seen from Tom Huddlestone. He gave a masterclass of how to play in midfield.
"The free-kick he hits from 40 yards, there are not many people who can even try to strike from there. He has practised that in training and I'm shocked how he manages to do it. He is trying to get the ball to move, and it's worked today for all of those hours he spends on the training ground.
"He's an outstanding footballer. Everything he did was effortless."