Steve Bruce angrily questions Hull City winger George Boyd's ban for spitting
Hull boss Steve Bruce fiercely criticised the FA disciplinary process after George Boyd was banned for spitting.
Last Updated: 21/03/14 4:39pm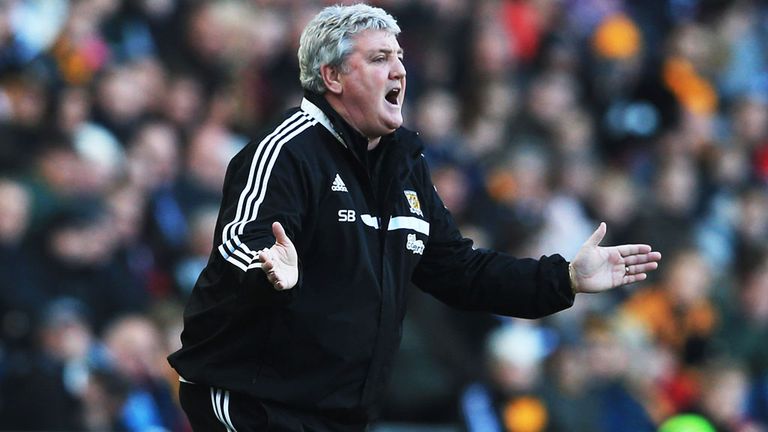 Bruce has leapt to the defence of the winger, who must serve a three-match ban following an incident with Manchester City goalkeeper Joe Hart in last Saturday's 2-0 defeat at the KC Stadium.
Boyd denied the charge of misconduct, but his appeal was rejected by an independent disciplinary panel and Bruce has suggested the player was wrongly punished.
He said: "Anybody who knows George and I've had the privilege now to manage him for the best part of a year, know for a fact that he would never ever spit at anybody deliberately. No chance. It's not in his make-up, he's horrified with the charge, George is genuinely horrified.
"I can see it on the television and you can see cameras that there's a bit of saliva came out of his mouth. That's not deliberately spitting at someone. He's shouting at him and it's come out of his mouth.
"I'm 100 per cent behind him because I know that's the truth. The problem is we can't go down and see anybody. We can't be represented on this commission. We don't know who took it.
"We're just totally disappointed that the whole system again needs looking at. I've got nothing against Joe Hart, but how does he get away unpunished if you're going to do George Boyd?"
Bruce has revealed that Boyd even considered legal action, such was his strong feelings about the charge.
Hart appeared to clear Boyd of any blame, but Bruce feels he was tried by a "Kangaroo court."
"For George himself, he feels that strongly about it, that if there was legal action to take, he would take it. It's accusing him of something that's not in his make-up at all," he said.
"I know certain players where you would say okay he's capable of it, certainly not George Boyd.
"Joe Hart last Saturday comes out and says that he didn't deliberately spit at him. You know if somebody spits at you and he's only a foot away.
"We did all we could but as soon as they've charged him I think we all understand that they're not going to change it. I don't know why this so-called committee sits.
"For me we don't get a fair hearing of it.
"The system needs to be looked at. It's like a Kangaroo court. We don't know who is on it, who makes the decisions, who is accountable for it.
"We just get a decision that the FA are charging us by three referees who are looking at it and of course they are not going to go against the other three are they."