Premier League: Injured Hull goalkeeper Allan McGregor wins red card appeal
Sidelined Hull goalkeeper Allan McGregor has won his appeal against the red card picked up against West Ham.
Last Updated: 29/03/14 12:07pm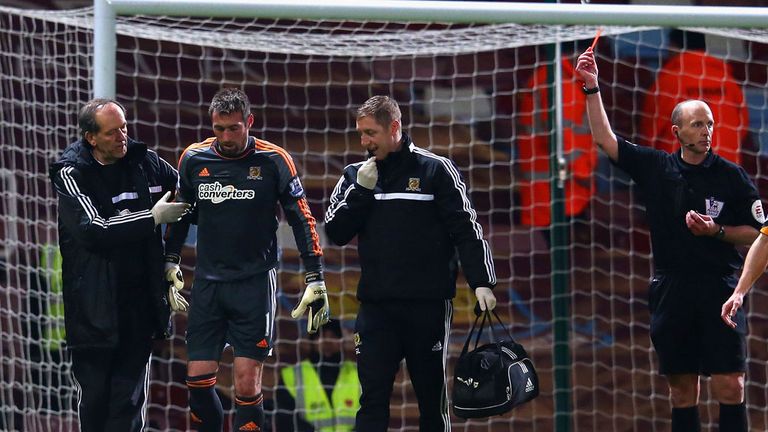 The Football Association announced on Friday that McGregor's appeal against the red card had been upheld, although the decision will be small comfort for the Scotland international following his injury.
The FA said in a statement: "Hull City's Allan McGregor has had his claim for wrongful dismissal upheld following an independent regulatory commission hearing today.
"McGregor was dismissed for denying a goal scoring opportunity during the game against West Ham United on 26 March 2014.
"The player's standard punishment, therefore, has been withdrawn with immediate effect."
McGregor, however, remains in hospital with a damaged kidney and is expected to miss the rest of the season.
The 32-year-old was hurt in a collision with Mohamed Diame as he conceded a penalty during Wednesday night's defeat at West Ham.
Hull manager Steve Bruce said: "I went to see Allan yesterday and the kid is still in a lot of pain. Overnight the observations have been better but it certainly looks like he is going to miss the rest of the season.
"Allan is as brave as they come but he has taken a horrible knock to his kidneys and badly damaged one of them.
"We expect Allan to stay in the high dependency unit for another three or four days, then three or four more days in a normal ward."
McGregor's absence is likely to mean an extended run in the side for Steve Harper as Hull fight to avoid relegation.
Defeat at West Ham left them eight points clear of third-bottom Sunderland, who have played two fewer games, and next up is a trip to a Stoke side on a run of three wins in four unbeaten matches.