Premier League: Hull City's George Boyd determined to reform spitting image
Hull City winger George Boyd admits he still feels hard done by following his suspension for spitting at Joe Hart.
Last Updated: 07/04/14 10:35am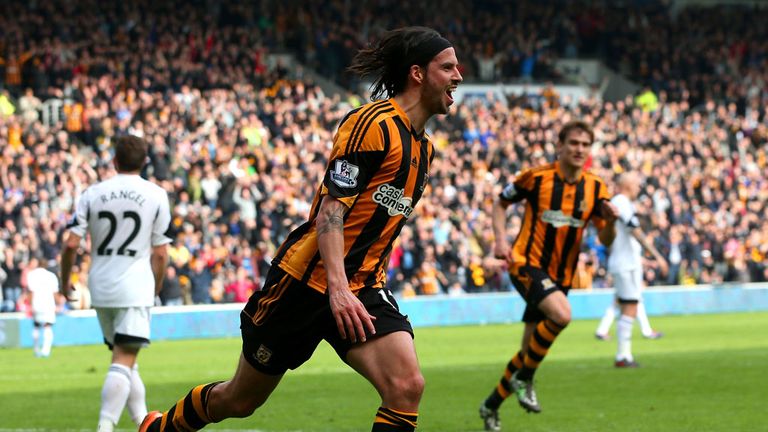 Boyd returned to action after his ban to fire Hull to a 1-0 victory over Swansea at the KC Stadium on Saturday.
Despite making a scoring return, Boyd remains unhappy with the treatment he received as he maintains his innocence, claiming the situation has been blown out of proportion.
The 28-year-old claims to have been unfairly labelled by what happened but is determined to defy any critics.
"It has been a horrible couple of weeks, but hopefully it is put to bed," Boyd told the Daily Star.
"Everyone close to me knows I didn't do it and hopefully we can move on.
"I still feel hard done by, you don't want to be labelled - and that is one of the worst things you can be labelled. We all know I didn't do it. We can't do much about it now."
Magnified
Boyd believes he has become a victim of the media attention surrounding the Premier League, claiming television cameras have created a false representation of the event.
"Things are magnified in the Premier League, which is the main thing," he added.
"If it had been in the Championship nothing would have been said but it was on TV and the amount of cameras, it was blown out of proportion.
"I've seen footage and it looks bad because they slowed it down so much but I didn't do it."
Boyd will have the opportunity to make a big impression on Sunday as Hull travel to Wembley for an FA Cup semi-final against League One side Sheffield United.
Victory over Swansea leaves Hull 12th in the Premier League and with relegation avoided, Boyd admits there is a sense of liberation as they make their way to the capital.
"It is a relief to go there full of confidence and enjoy the day," he said. "The fans will love it and it will be a great day."