FA Cup: Hull City boss Steve Bruce believes Curtis Davies is a 'dying breed'
Hull boss Steve Bruce has revealed that Curtis Davies' half-time team-talk inspired their 5-3 win over Sheffield United.
Last Updated: 14/04/14 10:49am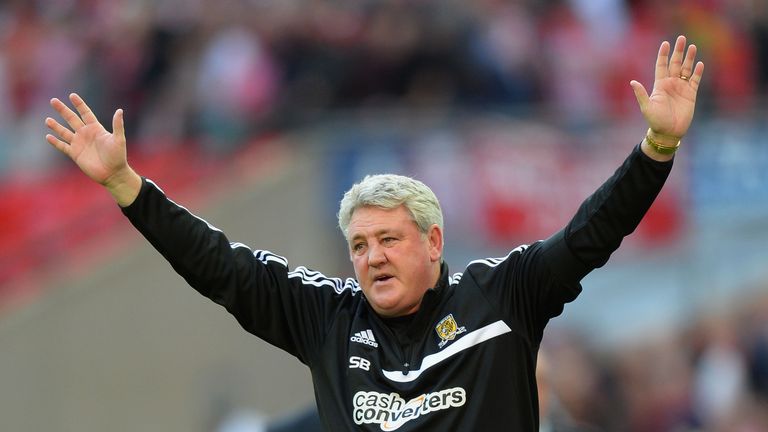 The Tigers were trailing 2-1 at the break, but four second-half goals confirmed the club's first appearance in an FA Cup final, with Arsenal awaiting next month.
After a poor first half, Bruce refused to take the plaudits for their comeback and praised his skipper Davies, who delivered a dressing down to his team-mates.
"I didn't say much at half-time," Bruce said. "My captain did it all.
"It's a long time since I've been in a dressing room where the captain takes over. It used to happen a lot in my day.
"I just had a cup of tea and let him get on with it. He is a bit of a dying breed with the way football is nowadays."
Ahead of the final on May 17, Bruce believes the pressure is all on Arsenal and insists his side will enjoy every minute of their historic match.
"If you had said 10 years ago that Hull will play Arsenal in the FA Cup final, people would have been scratching their heads," Bruce said. "It just shows you what can be done.
"I've been in the competition 15 years and never been anywhere near. I've had good fortune being involved in FA Cups and today was a proper FA Cup tie. We don't see games like that very often at Wembley.
"A bit like last year when it was Wigan versus Man City, Hull play Arsenal. All the pressure will be on Arsenal because they haven't won anything in eight years," he said.
"We've still got five weeks to go. We will enjoy it, we will enjoy the occasion and gain from the experience of today."