Premier League: 'I'll take Ryan Giggs on a free' says Hull City boss Steve Bruce
Hull boss Steve Bruce has joked that he would be happy to sign Ryan Giggs on a free transfer from Manchester United.
Last Updated: 06/05/14 9:36am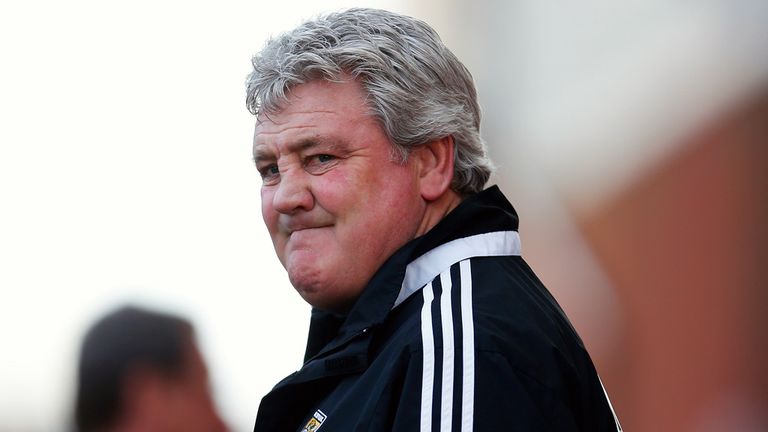 Giggs' immediate future is unclear, especially if he is overlooked as the next manager at Old Trafford.
The 40-year-old was named interim boss of the club following the dismissal of David Moyes last month, with Dutchman Louis van Gaal expected to be named the new permanent boss before the end of the month.
And if Van Gaal does take over at United, Bruce would be prepared to make his former team-mate an offer.
"He can come and see out his days at the KC Stadium, playing in the Europa League. If he's available on a free, I'd take him," joked Bruce, who believes there will always be a place for Giggs at United.
Hull face Manchester United on Tuesday in what is likely to be Giggs' final home match in charge as temporary manager but, regarding the new man, Bruce added: "It's a difficult one to call.
"If it is Van Gaal for United, I'm sure he'll have his own opinions. But there's always going to be a place for Ryan, I'm sure, because he's been a great.
"I'm sure they'll find a space for him somewhere. I don't think he'll leave. He will be treated properly, I'm convinced of that. He'll have some role to play. They'll not mess him about, that's for sure.
"Everyone's saying it's going to be Van Gaal but we're speculating. We've seen Pep Guardiola, Jurgen Klinsmann and Kenny Dalglish go straight into a top management job.
"He might need someone to work alongside to help him in his early days but it still might be him.
"I think the way he handled his first press conference proved to me that he can be as good as he wants to be.
"If he wants to do it, make no mistake, he'll be a success. He's driven that way. He's single-minded enough.
"To have the career he's had, you need determination and desire. He's got that in abundance. He's a tough so-and-so."