Steve Bruce could not contain the excitement in Hull's squad ahead of FA Cup final
Hull boss Steve Bruce could not take his players' minds off the FA Cup final during the closing weeks of the season.
Last Updated: 17/05/14 9:43am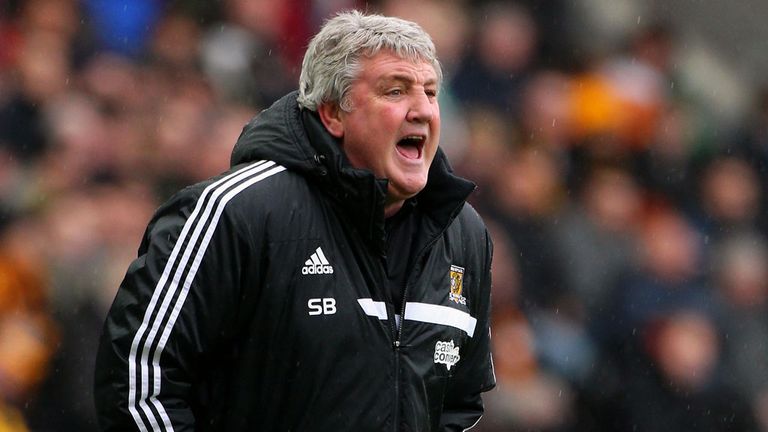 The Tigers booked Saturday's return trip to Wembley with a 5-3 win over Sheffield United last month, but they toiled in the closing games of the campaign, picking up one draw and four defeats.
Bruce, a former finalist with Manchester United, accepts the upcoming clash against the Gunners has been a constant distraction, although he fully understands his player's excitement.
"We try but we can't keep it normal - you can tell that," he said.
"You can't put a lid on it. They're playing in arguably the biggest game of their career and that's what you play football for. All they've thought about for four weeks is the FA Cup final.
"When you play for your youth team or your district team you want to do one thing - play in the FA Cup final. There's a spring in their step and so there should be.
"Everybody enjoys a shock and, if you're not an Arsenal fan, I'm sure the rest of the world will be rooting for Hull.
"The reality is it's a one-off, and it's a place where heroes are made. Who can be that hero and go and win us the FA Cup?"
Hull head into the match as underdogs, with Arsenal keen to end a nine-year trophy drought, but Bruce has told his players not to be daunted by the big occasion.
"We must be rank outsiders, but that's the beauty of the FA Cup. Manchester City were huge favourites last year but Wigan came up and won the thing and that's why, for me, it's the greatest competition.
"For a club like ours to take on the mighty Arsenal has a fantastic ring to it. The club has never been there in its history, so it's a wonderful achievement. But you've got to try to grasp the occasion and enjoy it, because if you're not careful it just goes past you."
Bruce has fond memories of the FA Cup after his United side edged past Crystal Palace in a 1990 final replay.
He returned as captain four years later and helped United to a stunning 4-0 final win over Glenn Hoddle's Chelsea.
"My first one was in 1990 and it was the showpiece, the pinnacle of the season," said Bruce. "There was a clamour of it and I'm reminded of the intensity and of the attention.
"It was over in a blur. Not many of them are married but I told the players it's a bit like your wedding day - before you know it you're married, and before you know it the FA Cup final's gone.
"The memories of the FA Cup are the ones you cherish when you've finished your playing career.
"The ones you really remember are your FA Cup days and, believe me, it's far better when you've won one than when you've lost one."