Tom Ince is eagerly looking forward to embarking on a new chapter in his career after being officially unveiled as a Hull City player.
The 22-year-old England U21 international, who has joined the Tigers from Blackpool, believes he and fellow new arrivals Jake Livermore and Robert Snodgrass can help FA Cup runners-up Hull improve on last season's 16th place finish in the Premier League.   
He told Sky Sports News: "I think the additions have been fantastic – we have got a great core of British players here who know what it means to play week in, week out in the Premier League.
"The main objective is obviously the Premier League and we want to build on where we finished last year. Obviously there is the distraction of cup runs so there are going to be loads of games to be played. But we feel we have got a strong enough squad to perform in every game possible.
 "The achievement is whatever we want to make it, however hard we work, and I am sure the manager will feel the same way.
I had a coffee and a cheese and ham toastie with him and that was it, I was signed.
Tom Ince on Steve Bruce
"First of all we just have to get a strong pre-season under our belt and then make sure we are on form week in, week out, because the Premier League is tough and we are going to be there mixing it with a lot of other teams.
"But with the team we have got, I think we can cause some surprises this year."
Ince had a loan spell at Crystal Palace in the second half of last season and held talks with Inter Milan earlier in the summer, but he opted to join Hull after speaking to boss Steve Bruce.
He said: "After the last six months I spent in the Premier League with Crystal Palace, I enjoyed the experience, but I had a bit of a here-and-there-and-everywhere summer.
 "I ended up at Milan for a couple of days and I stood in the San Siro and I thought that it was an unbelievable feeling so I thought I was in a dream.
More games that matter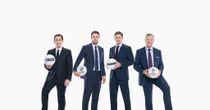 Click here to see Sky Sports' unrivalled schedule of live Premier League fixtures
"After that I went to Portugal and had a few days away with my family and luckily enough I met Steve Bruce in Portugal and the rest is history. I had a coffee and a cheese and ham toastie with him and that was it, I was signed.
"But to finally be here now and actually settled and ready for a really strong pre-season and a strong Premier League season, I am really looking forward to it."
Ince admits a move abroad in the future is something that still appeals to him but he is keen to prove himself with the Tigers first.
He said: "I felt this time now in my career, the opportunity that I think that Hull City can give me will be fantastic – again it is another opportunity to play in the Premier League.
"But I have got ambitions as a player, where I want to be and where I want to get to, and if there is an opportunity later on in my career then if it is abroad I will definitely look at it.
The Euros is a couple of years away and I feel there is an opportunity there. But first of all I have to perform for Hull City. I have to work hard at my game, make myself the best I can be, and if I can perform at Premier League level then who knows? My dream is to play at senior level and replicate what my old man did.
Tom Ince
"Maybe at that time it may be a different situation and I might make a different decision but this move now is about my development as a player and I just want to focus on being the best that I can be.
"A big key was the manager, he persuaded me to come to play for Hull City and he believes in what I can do. From the first day I walked into the club it felt like home and to be part of that and to fight on four fronts this season – with the Europea League as well – it's exciting times."
Ince also hopes some good performances for Hull will catch the eye of England manager Roy Hodgson so he can follow in the footsteps of his father Paul, who made 53 appearances for England between 1992 and 2000.
He said: "It's obviously another ambition of mine having seen having a lot of the young players I played with - Ross Barkley, Raheem Sterling, Luke Shaw – get the opportunities and the experiences they would have had at the World Cup was fantastic.
"The Euros is a couple of years away and I feel there is an opportunity there.
"But first of all I have to perform for Hull City. I have to work hard at my game, make myself the best I can be, and if I can perform at Premier League level then who knows? My dream is to play at senior level and replicate what my old man did."