Premier League: Hull players baffled by handball rule after late penalty mars win over QPR
By Lyall Thomas
Last Updated: 18/08/14 5:52pm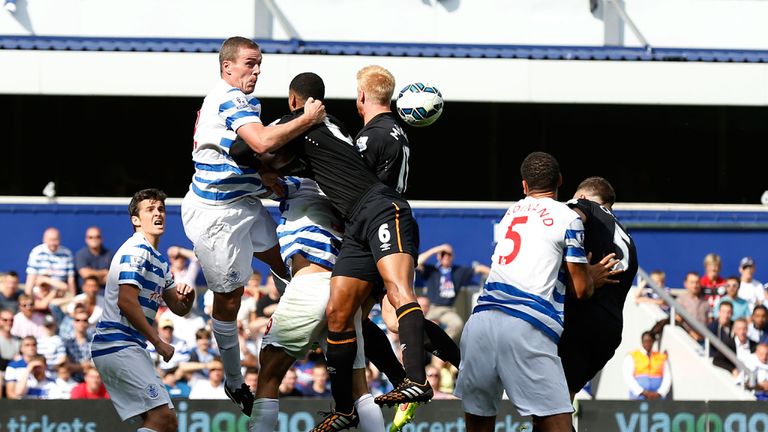 Hull City stars Tom Ince, Curtis Davies and Alan McGregor have admitted being baffled by the handball rule after a contentious penalty decision marred their opening Premier League win at Queens Park Rangers.
Goalscorer James Chester scored a 52nd-minute header that clinched a 1-0 win at Loftus Road.
But Chester conceded a penalty when he was deemed to have handled deliberately inside the area and keeper McGregor was needed to deny Charlie Austin a stoppage-time equaliser from the spot.
Chester seemed to have his arms in a controlled position by his sides and Ince, Davies and McGregor all agreed the decision was harsh.
Ince told Sky Sports: "Well first off it was a foul throw from Armand Traore at the top end but the rules on handball are a bit blurry.
"James moved his hand out of the way so it was a very harsh decision. Fortunately Alan is Scotland's number one and there is a reason for that – he's a top goalkeeper and fantastic for us."
Keeper McGregor said: "I'm not sure it was handball. We get told hands need to be in an unnatural position.
"If that was an unnatural position then what is a natural position?"
Chester's partner at centre-back Davies said: "Luckily Alan popped up with the save and we won because I thought the referee guessed that decision.
"Talk about an unnatural position, I don't see how James can move his arms in time. But the main thing is Alan saved it and we got three points."
The incident involving Chester was not the only controversial penalty given on the opening day of the Premier League season.
Tottenham defender Kyle Naughton was sent-off at Upton Park for apparently handling he ball deliberately inside the penalty area in their 1-0 win over West Ham.
Spurs boss Mauricio Pochettino complained the decision was unfair, with Kevin Nolan blasting the ball against Naughton's arms from close-range early in the game.