El Hadji Diouf has slammed Liverpool captain Steven Gerrard as being 'selfish'
El Hadji Diouf has launched a stinging attack on Liverpool captain Steven Gerrard, accusing him of being 'selfish'.
By Patrick Haond
Last Updated: 19/10/12 5:16pm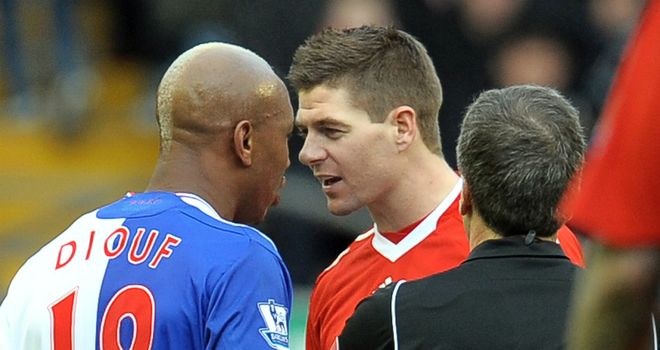 Gerrard and Diouf never saw eye-to-eye during the Senegalese's two years at Anfield with the Reds skipper hitting out at Diouf in his autobiography for failing to give his all during his time at the club.
The pair have also been embroiled in clashes with each other during games between their respective clubs since Diouf's departure from Anfield.
"Steven Gerrard's words? It is jealousy," Diouf told L'Equipe. "I was the most important man at that time and I had everyone at my feet.
"I was committed to the Senegal national team. I took them to the quarter finals of the 2002 World Cup.
"I was in the 100 best players of the century list by Pele not him.
"I respect him as a footballer, but there is no one more selfish than he is. He prefers that Liverpool loses and he scores.
"He doesn't care about anyone. I've talked to Liverpool greats and no one can stand him."
Diouf has also had a long-running feud with Gerrard's team-mate Jamie Carragher with the pair trading insults after the Reds defender hit out at Diouf for his lack of loyalty and passion in his autobiography.
But Diouf refused to even talk about Carragher, saying: "And I won't talk about Carragher."
Diouf also rejected claims that he is a bad boy, but admits he has done things that he now regrets.
"I have done things but others have done worse," added Diouf. "I am an easy target, people talk about me no matter what.
"Okay, I have hurt people and I regret that. But I have never been to prison, I have never injured anyone on the pitch.
"After people gave me the 'bad-boy' image, I had to deal with it. Bad boy? It makes me laugh.
"It doesn't bother me. I prefer that people talk about me, whether good or bad. I leave my mark wherever I go."