FA to probe attack on Chris Kirkland at Hillsborough on Friday night
The FA will investigate the incident in which Chris Kirkland was attacked during Sheffield Wednesday's match with Leeds.
Last Updated: 20/10/12 3:59pm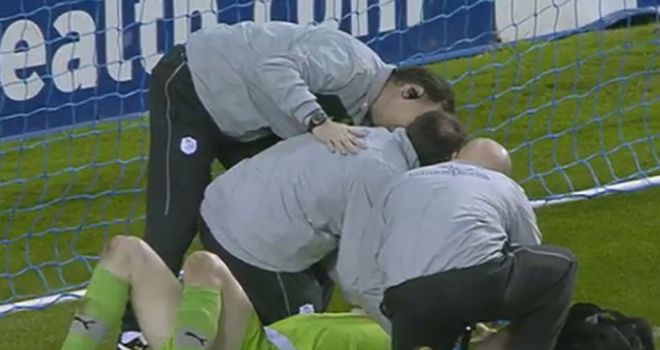 A supporter entered the pitch from the Leeds end after Michael Tonge's equaliser in Friday night's 1-1 draw and confronted Kirkland, shoving him in the face with enough force to knock him to the ground.
Police have identified a suspect, although he is yet to be arrested, and football's governing body is awaiting a report from referee Eddie Ilderton before opening a full investigation into what happened at Hillsborough.
A spokesman said: "The FA condemns the scenes at Hillsborough on Friday night. We have begun an immediate investigation and have been in contact with both clubs.
"We would call for the authorities to identify and bring before the courts anyone who was involved in any form of criminal disorder."
Ray Fell, chairman of the Leeds United Supporters' Club, wants action taken quickly against the assailant despite pointing out that both sets of fans had contributed to the hostile atmosphere.
Fell said: "The only hope for most of us is the police act quickly and this lad is brought to task for it. He let the club down and he let us all down.
"The only thing we don't like about it - it wasn't the Leeds fans who attacked the goalkeeper, it was a Leeds fan who attacked the goalkeeper and the other issue is also what fuelled it. Both sets of fans were chanting."
Fell was also critical of the ease with which supporters were able to get on to the pitch after Tonge's 77th minute goal.
He added: "These clubs need to make sure the stewards work properly - the Taylor report seems to have been forgotten in recent years and it's time we went back to looking at these things and that the grounds are properly policed and stewarded."