Sheffield Wednesday goalkeeper Chris Kirkland reveals his shock over attack by Leeds hooligan
Chris Kirkland has expressed his shock at being assaulted by a Leeds fans at Hillsborough on Friday.
Last Updated: 22/10/12 10:38am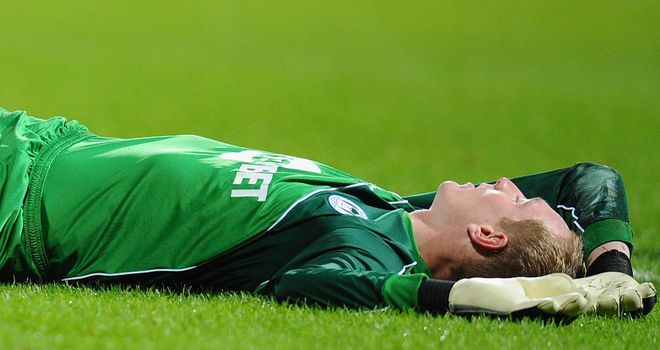 The Sheffield Wednesday goalkeeper was attacked seconds after Michael Tonge's equaliser for the visitors as off-field events overshadowed Friday's entertaining 1-1 draw.
Kirkland was able to play on after receiving treatment, and he admitted he was fortunate to have escaped serious injury.
Describing the incident, Kirkland said: "I was gutted with conceding the goal and had my head down as I kicked the ball down the field so we could restart the game
"I was looking at the ground but when I looked up, I caught a glimpse of someone coming towards me on the pitch. I thought he was going to give me some abuse but then he came at me with both hands and I was stunned.
"I felt the full force and I was just shocked because you never know what could have been in his hands. It was a strange feeling because of all the adrenalin you feel in such a big match anyway.
"The rest of the game flew by and then the final whistle came, the adrenalin goes and you reflect on something like that and it was scary.
"I thought of my family watching something like that and it was not a nice feeling to think my daughter saw me assaulted like that.
"I just want the authorities to look at what happened and take the appropriate action because sooner or later, we could be talking about something even more serious.
"And the sad thing is that what happened overshadowed what was an outstanding display and we want to build on that against Blackburn on Wednesday."