Leeds United boss Neil Warnock excited to play Manchester City in FA Cup
Leeds United boss Neil Warnock is thrilled with the challenge of playing Manchester City in the FA Cup on Sunday.
Last Updated: 17/02/13 1:08pm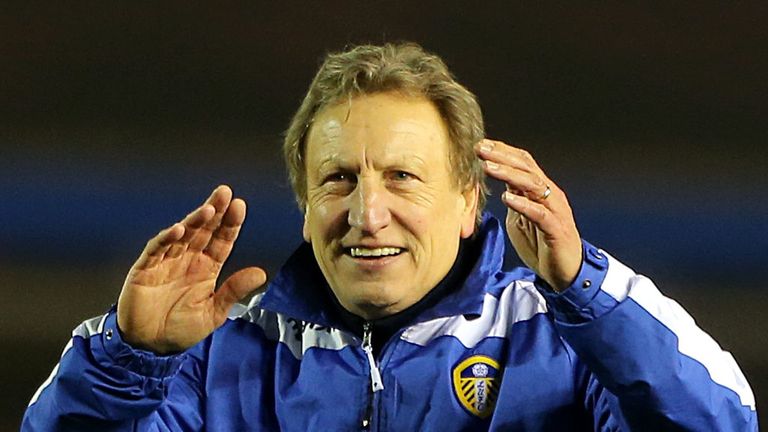 United have been in spluttering form in the Championship - they are 11th and eight points from the play-off spots - but have produced their best form in the cup competitions this season.
They have already beaten Southampton and Everton in the Capital One Cup and beating Tottenham in the FA Cup set up a mouth-watering encounter with the Premier League champions at the Etihad Stadium with a quarter-final spot at stake.
"I don't think many people are going to put any money on us," said the 64-year-old. "But the FA Cup is such isn't it? It's such a great competition.
"It would be a major upset if we went there and won, but we're looking forward to it. I don't think many people, when the team sheets came out, gave us much chance against Tottenham or Everton, but it's a little bit more difficult with it being at the Etihad as well.
"They'll be right up for it and I would imagine they'll want to try and win the tie early doors so they can relax and enjoy themselves."
Warnock has received plenty of stick from some Leeds fans in recent weeks after one point from their last three league games but their cup run has left him optimistic of a major upset on Sunday afternoon.
"We've done brilliant in the cups this year, I don't think anyone's done better than us," Warnock added.
"We've had a very good run and it's shown what ability we've got in the squad. That's what makes it more frustrating in the league. But this is by far the toughest one. They're champions of the Premier League, we're away from home and it's the only competition they've got left to win. It's difficult.
"But we're going to enjoy it. There are no league points at stake and I'm sure the fans will enjoy going over there."
Manchester City boss Roberto Mancini is also feeling the heat after falling 12 points behind neighbours and runway Premier League leaders United.
"When you're at a club like that and you've spent what they've spent you're always going to get pressure," Warnock said.
"The pressure is that they're only second in the league. But that's what you get with the job, I think every manager would like those pressures to be able to go and buy anybody you want in the world.
"But we've got some good players. We've got young players I believe could play in the Premier League, three or four, we've got one or two old campaigners who love the atmosphere and what the Etihad will bring and I'm sure with television being there as well they'll want to perform.
"So if all the pieces fit on the day there's no reason why we can't give them a good game and that's what we want to do. We want to go there with a big following and give them a good game."
Warnock got the better of City the last time he crossed them in the FA Cup, as manager of Notts County in 1991.
"They were a top-flight team and Peter Reid was moaning because there was snow on the pitch, so it is possible, but tougher now. Away from home against a top side.
"But it's a two-horse race and hopefully one or two of them might have been out on the town the night before."