Former Leeds midfielder Robbie Rogers announces he is gay
Former Leeds player and USA international Robbie Rogers has announced he is gay and is to "step away" from football.
Last Updated: 16/02/13 3:04pm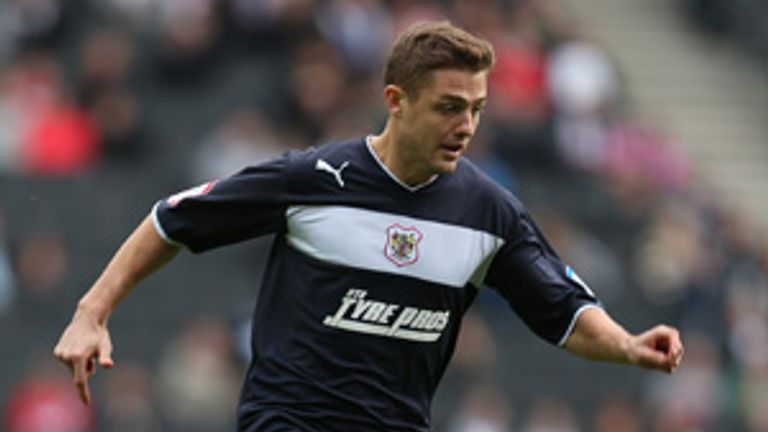 The 25-year-old American, who left League One side Stevenage last month, wrote on his blog that he had been afraid of revealing his sexuality but had now decided to "step away" from football.
Rogers, who has made 18 appearances for the United States, wrote: "Secrets can cause so much internal damage. People love to preach about honesty, how honesty is so plain and simple. Try explaining to your loved ones after 25 years you are gay.
"Try convincing yourself that your creator has the most wonderful purpose for you even though you were taught differently."
He added: "I will never forget the friends I have made along the way and the friends that supported me once they knew my secret.
"Now is my time to step away. It's time to discover myself away from football."
Bolton midfielder Stuart Holden has tweeted his support for his fellow USA international.
He wrote: "Much love and respect to my boy @robbierogers! Proud to be your friend bro."
Professional Footballers' Association chief executive Gordon Taylor told Sky Sports News: "It's unfortunate he has announced it after retiring. This is a testing time and it takes the first player to come out ideally during his career.
"Otherwise it's always going to be difficult. We are aware some players wish to remain anonymous but we wish to provide a safe environment regardless of sexual orientation, creed or colour. We need to make sure football moves on."
Clarke Carlisle, chairman of the PFA's management committee, wrote on his account: "Huge admiration for @robbierogers - I hope retirement is not because of this revelation, you have our respect & support wherever you go!"
Darren Bailey, the Football Association's director of football governance and regulation, pledged to back Rogers in any way required.
He told Sky Sports News: "Following the announcement by Robbie Rogers on Friday, the FA is trying to make contact with him offering our support. Whether Robbie stays in the game or steps away for a break he has our full backing."