Neil Warnock disappointed Leeds only took a point from trip to Blackburn
Leeds boss Neil Warnock is keen to add to his striking options after watching his side earn a goalless draw at Blackburn
Last Updated: 23/02/13 7:34pm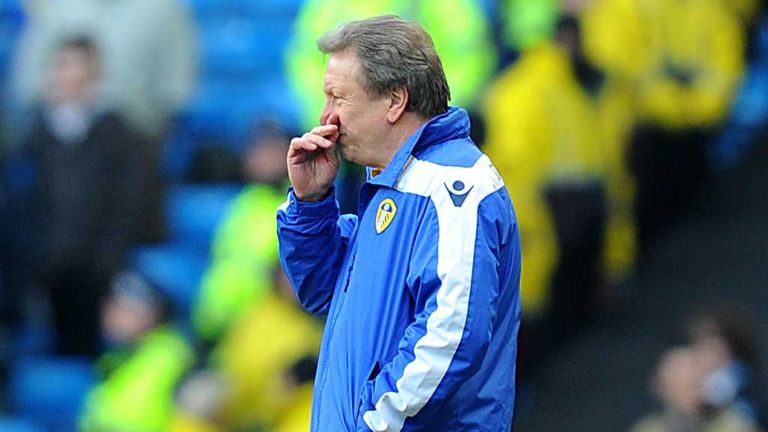 The Whites dominated for long periods of the match but failed to find a way past Rovers goalkeeper Jake Kean.
And while the forward trio Luke Varney, Ross McCormack and Steve Morison all earned praise from Warnock, he remains on the lookout for a striker in the loan market.
"You don't tend to come away to Blackburn, end up 0-0 and be as disappointed as we are," he said.
"I don't know how we've not won the game really. I never thought they were going to score, even at the death when they had a couple of corners.
"I thought we were super at the back, did well in midfield - you've just got to take your chances.
"When I've looked at the chances - Lee (Peltier) should have scored when he mishit it into the goalie, Ross McCormack should have scored, Luke Varney should have scored.
"It's a start because we asked them to give a performance like they did on Wednesday night against Blackpool - they were super against Blackpool.
"Away from home, in a couple of games we've been diabolical but this side's only played together two games on the trot and if I'd had this side from the start of the season we'd be a lot higher.
"We probably need another striker/winger type to give us that little bit but I don't think I can fault anything.
"Away from home you've got to start with the front lads and we've not had front lads who've worked like that this season.
"Varney's come back and hit a good vein, Morison works his socks off and Ross is doing the best he can.
"He's working harder than he's ever done. He's disappointed he didn't score that opportunity that Morison set up for him."