Leeds United fan view
Leeds United FanZoner Steve Turner believes a mid-table finish beckons for the Whites unless further signings are made by Brian McDermott.
Last Updated: 31/07/13 10:44am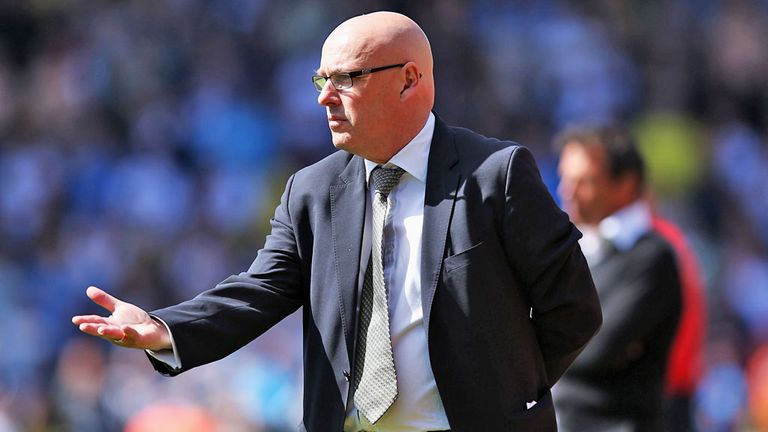 How has your pre-season gone?
Results wise, not great. We started well and it felt like we'd be kicking the season off with some real momentum behind us, but the last few games seem to have brought everyone back down to earth a little.
It would've given the place a lift to end pre-season with a win but we were outclassed by Nurnberg, although considering they play teams like Bayern Munich and Bayer Leverkusen in the Bundesliga it was a tough ask.
Off the pitch we've seen Ken Bates' removal from the club, which was understandably a highlight for the fans. I'm sure we haven't heard the last from him, but if GFH keep righting the wrongs from his tenure he'll be forgotten in no time.
Are you happy with how things have shaped up in terms of transfers - both in and out?
I'm happy with the players we've brought in, but I think everybody agrees that we're still a few quality additions short. For example, we've signed Matt Smith, who is understandably good in the air given the fact that he's a modern giant, yet we don't have any wingers to put the ball on his head. It's got the feel of an unfinished plan at the minute.
The players that left needed to go; I was a little dejected about Davide Somma as he definitely had something about him, but injuries ruined his chances here.
There are still a fair few players at the club that are surplus to requirements, but it appears that until they move on we won't be bringing anyone else in. As much as I don't like it, I can see why the owners are being careful in regards to bringing in new players and having a large squad.
The seven-figure fee paid for Luke Murphy shows that they're not afraid to spend money when needed, but with so many average players at the club eating up the wage budget it'd be irresponsible to increase that.
We're happy to let them run the club properly when it comes to lower ticket prices, so it'd be a little unfair to criticise them for not doing the same with the squad.
Is your current manager the right man for the job?
Definitely. There's no doubt in my mind about that. We've seen already that he's not afraid to be open and honest with the fans, which is a refreshing change, and when something's wrong he takes the blame for it.
Brian McDermott just seems to understand what the fans expect; he's realistic in his aims and clearly a talented motivator.
It's clear he wants to build something here and I hope he gets given the time to do it. Leeds can be a tough place to be when results aren't going your way, but if the fans can be patient with him then he's got a great chance of being a success.
Dare to dream - if everything clicked into place what's the best you could hope for?
Obviously the dream is promotion, whether it comes via winning the league or by a last-minute deflected winner in the play-off final - we'd take it whatever way it came.
The Championship is a tough league to get out of because it has so many teams with genuine quality, but, like we saw last season, that can work as an advantage to any team that can put a run together, as teams at the bottom of the league often upset teams at the top.
It's there for the taking, and us Leeds fans love a good dream.
Back to reality - what are your realistic expectations for the new campaign?
Without sounding too defeatist, I'd expect us to finish around mid-table again. If things go our way and we can put a good run together then the play-offs aren't completely out of reach, but unless some of the better teams have disastrous seasons I can't see us challenging for much.
If we somehow manage to bring two or three more quality players in before the transfer window closes I'd definitely give us a chance of being in the top six, if not then it probably won't be our year.
Who will visiting scouts be keeping an eye on this season?
Sam Byram, but then that's nothing new as he had scouts watching him for the majority of last season too. He's destined for bigger things; we're just hoping they're with us.
I think this will be a good season for Dom Poleon, too. He's had a good pre-season and he's got that little bit of pace that makes him stand out from the rest. If he keeps working hard he'll definitely get a few goals.
Chris Dawson is another one to watch; he's a youngster with massive potential and I fancy him to get a chance under McDermott. He's quick, good with his feet and he's a tidy finisher too. He's got a bright future ahead.
If you had to pick one player who'd be fit for every minute of every game, who would it be?
Ross McCormack. When he first signed for us you could tell he was lacking in confidence, and goals were hard to come by, but the fans stuck with him because of his effort.
Since then he's become one of the key players at the club and a fans' favourite. I worry sometimes that if he has a few games with no goals that he starts to let it get to him, but the fans understand that when he's not scoring goals he's busy working hard for the rest of the team.
McCormack is one of few players to stay loyal to the club through the harder times, so he deserves the credit he gets.
There have been a lot of calls for him to be made captain lately. His passion alone makes him the stand out candidate so it wouldn't surprise me to see him given the armband this year.
On the flip side (without being cruel!), who is the player with most to prove?
There are a lot of players that need to show a bit more this season, but for me it has to be Aidy White.
Aidy's always shown promise but it feels like every season comes and goes with no massive progression on his part, although, in his defence, he's never really been given a set position by any manager.
McDermott mentioned playing him in an advanced role this season which would suit his pace, so this could be the year that he steps up and becomes the player that everyone expected him to be. He's definitely got it in him.
If you could sign any one player from any other side in the same division who would you plump for?
Despite our desperate need for a defender, I'd have to go for Chris Burke from Birmingham, and just try and outscore everyone.
We've been liked to him before but nothing ever came of it, which is a shame considering he's exactly the type of tricky winger we're missing at the minute. A midfield consisting of Burke, Luke Murphy, Rodolph Austin and Aidy White would cause problems for most Championship defences.
If you only win one game all season who would you take three points from?
Despite the seemingly endless amount of Yorkshire derbies this season I'd have to go for Reading away, just for McDermott.
I remember thinking that his sacking was senseless at the time; now I couldn't be more grateful for it.
You can follow Steve on Twitter at @giddy_goose - and don't forget to follow @FanZone too for links to all the latest blogs.