Fresh perspective
Alex Dunn catches up with Matt Smith to discuss his new life at Leeds United and an alternative route into the game that has seen him rise from university football to the Championship in little over two years
By Alex Dunn - @skysportsaldunn
Last Updated: 21/09/13 2:33pm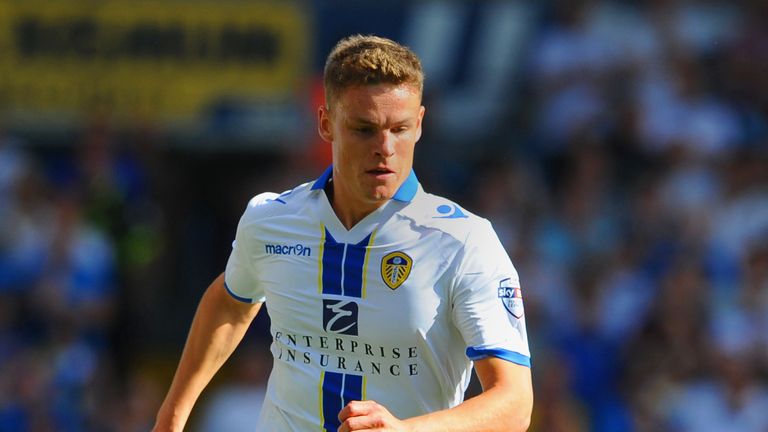 In an industry not exactly known for its self-awareness, it's refreshing to speak to a footballer who knows exactly who he is, where he's going and how he's going to get there. Google Matt Smith and you are inundated with stories about the good doctor but in January last year it was another Matt Smith who entered the national consciousness. A brace for League One strugglers Oldham Athletic that helped knock Liverpool out of the FA Cup may have had sub-editors asking 'Matt who?' as they readied headlines, but by the time he'd repeated such goalscoring feats against Everton in the fifth round his name was well known in Championship boardrooms.
Indeed, such was the broadsheet obsession with his background that when he crossed the Pennines over the summer to join Leeds United we even knew his father, a former professional footballer, is a doctor; albeit of the medical than Time Lord variety.
A Manchester University graduate in International management with American Studies just two years ago, Smith is that rare beast; a footballer with a degree. At 6ft 6in he also happens to cast the kind of shadow that has defenders who don't relish a physical battle feeling their hamstrings before a ball has been kicked. To speak to he's less guarded than many of his brethren, open and articulate, and yet at the same there's no doubt he also possesses the hardened drive that separates the promising park player from the professional. It's difficult to articulate but they've all got it.
"I'd always been intrigued about the game at a higher level," he tells me when asked about the Liverpool game. "I've always said that in the air I've never felt threatened by anyone and I still maintain that. I said to myself it'd be nice to challenge myself against those at the top end. It definitely gave me confidence and an insight into what it's like higher up. There's a lot I need to do to improve my game, but I know that, and I'm relentless in terms of fine-tuning.
"I was fortunate at Oldham to play against Liverpool and Everton and do well. The Liverpool game catapulted my profile from relative obscurity to national headlines. From that point of view everyone was aware of me all of a sudden. But I think it was all coming together before that. I'd had a string of games and was improving in my overall game so that gave me the confidence all strikers thrive on.
"It's been a very fast transition but I've enjoyed every second. It's a rollercoaster ride to where I am now but I always maintain that I want to keep progressing, to keep improving. It's important not to be content at where I am now but to keep pushing on. I'm an ambitious guy, very focused on where I'm going."
It's an ambition that has taken him from university football to Solihull Moors to Oldham to Leeds United in little over two years. It's perhaps no surprise then that he's loving life in west Yorkshire and playing in front of a partisan and sizeable Elland Road crowd.
"I'm someone who will always give my all and I think with Leeds fans that is all they ask for. They're very vocal and seem to be really positive, which is so important. To stand by their team is key and it's always 'Leeds, Leeds, Leeds' whenever I go out. We're a family here and they really spur us on on the pitch.
"The first month has been very positive. From a professional point of view I'm happy. We've had some good results and I feel I've made a contribution to the team. I've settled in well. Leeds is a new city for me but I feel comfortable and I'm enjoying it.
"The thing that I've noticed with the squad the manager has assembled is that it's a very close-knit group. I've never really experienced team spirit as good as it is at Leeds. From that point of view it's really positive, everyone is behind one another. We're heading in the right direction, I've no doubt about."
It's clear the gratitude he feels towards his manager Brian McDermott in giving him his chance in football's second tier: "He's been a tremendous help in my career. Obviously bringing me to Leeds in the first place and to thrust me into that environment, he's had to take a leap of faith with me. I've figured in seven out of nine games so far so I'd like to think I've impacted as best I could. There are a couple of games where I haven't been as happy as others but that's just something to work on. He's a terrific manager and I'm really excited to work with him."
Smith may not be the subtlest player in the Football League but when you've demonstrated you can make Martin Skrtel and Sylvain Distin look as though they're ready to burst into tears on the pitch, there's no point using a cat flap when you've a bark like a Doberman.
When I put it to him that his physicality is a novelty that is difficult for unaccustomed centre-halves to deal with, it's a point he's happy to acquiesce on. Refreshingly, he doesn't add any superfluous reasoning about his respective ability on the deck either.
"There is a certain shock factor, I'd agree with that. The structure of the game at the higher end of the pyramid is very much geared about technical, more cultured European-style players that can run between the lines. Sticking a 6ft 6in striker up there as a battering ram is a different type of thing for top level defenders to think about.
"It's the old fashioned number nine that's a dying breed in football. You can probably count them on one hand. There are not many big lads bashing about the box these days. It gives any team something different to think about though. It doesn't necessarily have to be plan A but coming off the bench it's an effective plan B at times."
Smith acknowledges that being an effective plan B has its drawbacks. Convincing his manager he is worth more than a game-changer role from the substitutes' bench is his next target. He has started just one game for Leeds so far this season, scoring in the Capital One Cup defeat of Doncaster.
"My greatest strength may be my greatest weakness. I do have that ability to impact a game but for me it's about smoothing off all the rough edges in my game so I can be a regular starter.
"If you look at the statistics I'm closing on 100 appearances now, which is great going as this is only my third season. Having said that, if you notice the starts versus the substitute appearances it paints a different picture. It can be demoralising but then it's so rewarding when things go right. More often than not I'm coming off the bench and I always feel I can change the course of the match. That's a real positive and I've always had chances when I've been involved.
"There are plenty of opportunities for the big target man to start. The likes of Andy Carroll and Rickie Lambert are players I really look up to. If you ask Luke (Murphy, his housemate), I was shouting my head off when Rickie scored for England. He's come from the lower leagues and he's proven that if you're a good goalscorer you can do it at any level. If anything, he's a little underrated in my book.
"In the first two years at Oldham I was guilty of missing some really good opportunities but I always work off the positives and take strength from getting into the right positions. I know that you're rewarded for hard work and that's not just on the field on match day, but on the training ground."

As someone who in his final year at university was out training with his father when most students are still coming in from a night out, sometimes as early as 5.30am, Smith knows all about sacrifices.
"University was a sacrifice, certainly the second part of it when I was studying whilst playing part-time non-league football. I'd train in the early morning before going to lectures. It's like anything in life though, if you want to excel in a particular field you have to make sacrifices and push yourself. When I pull on a Leeds United shirt though I know it's all been worth it."
With the current zeitgeist harbouring an obsession with how footballers are produced in this country, it's interesting to hear the opinion of someone who bypassed entirely the closeted world of academies and professional coaching.
"Obviously I've got a different perspective from my team-mates. I've worked in other environments other than football. I understand just how lucky I am to be a footballer and cherish every opportunity I'm given. Having worked in various professions I'm fully aware of just how good a job being a footballer really is.
"On the flip side, there are definitely times when I feel I'm playing catch-up. I've not had an academy background and the benefit of working with professional coaches. That's not to say the coaches I worked with in non-league weren't knowledgeable, but I'm used to a very different style of football to those who've come through an established youth system.
"I think the higher you go up the more mentally challenging it becomes. The mental toughness isn't something I thought about when I started playing full-time. It's what you do, all day every day. In a game the smallest details can change your mind set. It's a very tough thing mentally to deal with. The tempo of training is more intense too. It's going to take more time to fully take that transition in my stride."
As someone with an academic background I'm keen to learn if it annoys him when footballers en mass are accused of being thick. He doesn't shirk the question: "There is that stereotype about footballers being thick. Being brutally honest I've seen examples of when they fit the stereotype. And then there are many, many more when it's pleasantly surprising how articulate and intelligent a lot of footballers are. There are a lot of footballers who are incredibly street smart and savvy in the decisions they make. It's like any sphere of life, there are some people that fit the moulds of the stereotypes and many more that don't."
Smith most definitely doesn't.