Sky Bet Championship: Ross McCormack happy to have Brian McDermott return at Leeds
Leeds' players are delighted to apparently have manager Brian McDermott back, according to captain Ross McCormack.
Last Updated: 01/02/14 10:06pm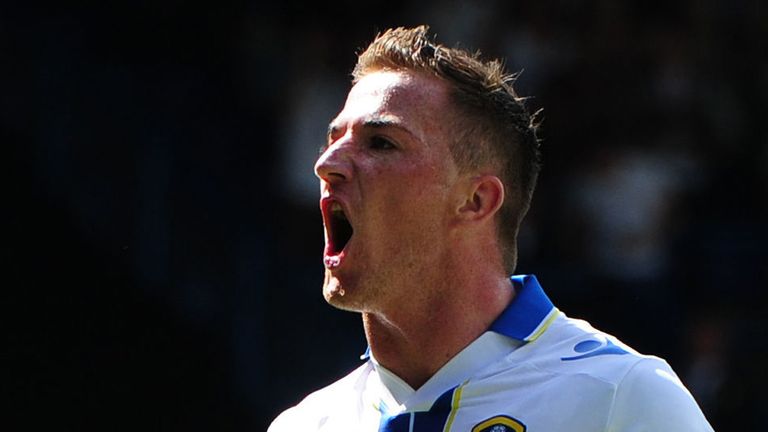 McDermott was told he had lost his job on Friday night as the club's ownership moved close to the hands of Italian Massimo Cellino, but after he stayed away from Saturday's 5-1 win over Huddersfield, Leeds said he had not been sacked and remained in charge.
That was news to everyone, McCormack included, with the Scotland striker so moved by his manager's apparent departure that he called Sky Sports News on Friday night to pay tribute to him.
The pair enjoy a strong relationship, with McDermott calling the striker his talisman and making him captain.
McCormack scored a hat-trick against Huddersfield to take his season tally to 22 and then told BBC Leeds: "My relationship with the gaffer doesn't affect how I feel about the club. There are a lot of great people here who I get on with. The gaffer made me captain and there is a lot of respect. The lads are delighted he's been reinstated."
It remains to be seen if McDermott is back, though; the League Manager's Association is working with him and the Football League is checking out Cellino's takeover, which has still to be approved.
It had looked as though ex-Middlesbrough defender Gianluca Festa would manage Leeds on Saturday, but a call to McDermott's assistant Nigel Gibbs from managing director David Haigh meant he took the team, who went on to put their troubles to one side.
"On a personal point of view I'm proud to get the hat-trick, but the way we played as a team and a squad was fantastic. The boys on the bench came to celebrate and it's a squad game. Everyone is happy and together," McCormack added.
"It was tough with what was going on. We're paid to play football and we put what was happening to the back of our heads. We had a chat before the game and the main thing was the performance."
Cardiff had a bid rejected for McCormack on Friday and he then committed his future to Leeds and McDermott in a statement, only for his boss to then seemingly lose his job.
That prompted McCormack to make his television address.
"Forget being the captain, being a player it was a troubling day. I felt when whatever happened with the gaffer happened, that as captain I was speaking on behalf of the other players," he said.
"If I wanted to leave the club I would have handed in a transfer request. I was just gutted. I'm still here, have three-and-a-half years left and intend to honour it, that's my thinking."