Massimo Cellino says he didn't sack Leeds manager Brian McDermott
Massimo Cellino insists he did not sack Leeds boss Brian McDermott and does not want to replace him with Gianluca Festa.
Last Updated: 03/02/14 2:20pm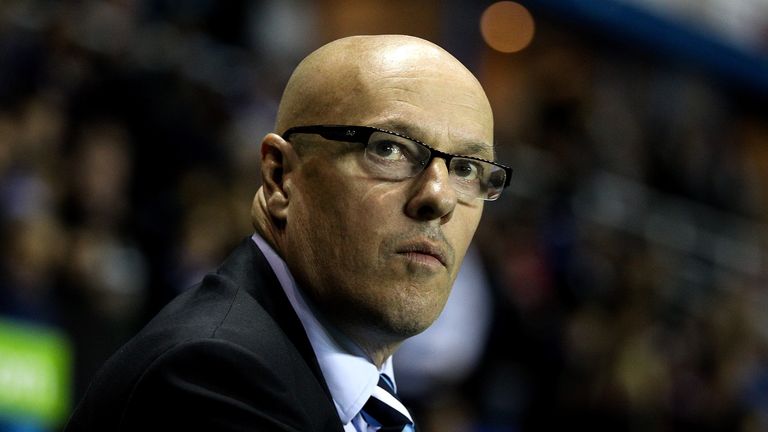 McDermott had been told on Friday evening that he no longer had a job before it subsequently emerged that the solicitor who spoke to the Leeds boss had no authority to sack him.
The former Reading boss was not at Elland Road on Saturday for the 5-1 thrashing of Huddersfield Town after which Leeds confirmed McDermott was still the club's manager.
That announcement came after Leeds stated earlier in the day that GFH Capital had agreed to sell a 75 per cent stake in the club to Eleonora Sport Ltd, the Cellino family's company.
Cellino, who also owns Serie A side Cagliari, was reported to want to ditch McDermott and bring in former Middlesbrough defender Festa as the club's new coach.
However, with the Football League yet to ratify the takeover, Cellino is adamant he did not dismiss McDermott and that he wants the 52-year-old back in charge at Elland Road.
"I want the coach back and have been trying to call him," Cellino told the Sunday Telegraph. "I don't mind this coach.
"How can I sack anyone anyway? I need the approval of the Football League before I own the club.
"GFH are still running Leeds United. They did not want Brian as manager but didn't have the courage to sack him."
Festa was in attendance for the victory of Huddersfield, but Cellino has claimed that his fellow Italian lacks the experience to be the next Leeds boss.
Cellino added: "Festa has never run a club before. I have never had him coach a team before, so why would I want him to coach a major club like Leeds?"
Meanwhile, after scoring a hat-trick against Huddersfield, captain Ross McCormack expressed his delight that McDermott was still Leeds manager.
McCormack said: "My relationship with the gaffer doesn't affect how I feel about the club. There are a lot of great people here who I get on with. The gaffer made me captain and there is a lot of respect. The lads are delighted he's been reinstated.
"On a personal point of view I'm proud to get the hat-trick, but the way we played as a team and a squad was fantastic. The boys on the bench came to celebrate and it's a squad game. Everyone is happy and together.
"It was tough with what was going on. We're paid to play football and we put what was happening to the back of our heads. We had a chat before the game and the main thing was the performance."
McDermott's assistant Nigel Gibbs was in the dugout for the local derby and explained how he came to be in charge for the victory over Huddersfield.
"I was coming to the game anyway because I had not heard from the club," Gibbs said.
"I was asked at 12.15pm. (Managing director) David Haigh asked me to take the team and I told the players.
"The team was prepared by Brian. It's his team, his performance and his victory. It's been unusual to say the least."