Brian McDermott to face media after resuming managerial duties at Leeds
Leeds United manager Brian McDermott will face the media this lunchtime to clarify his situation at the club.
By Bryn Law at Thorp Arch
Last Updated: 03/02/14 1:48pm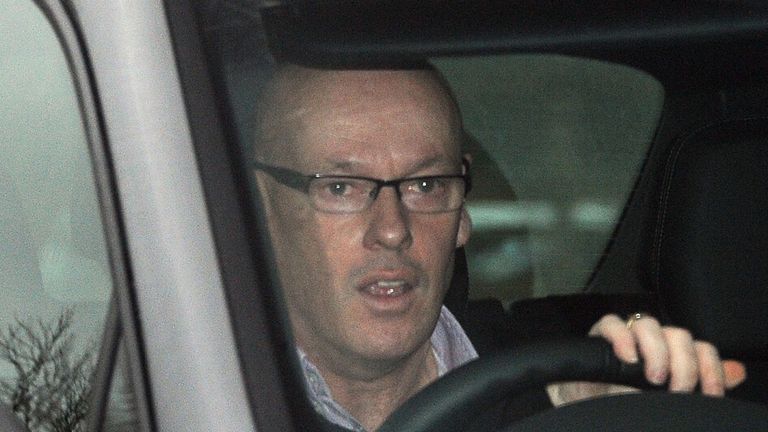 McDermott will hold a press conference at 1.15pm at the club's Thorp Arch base in order to clarify his current situation and you can watch it live on Sky Sports News.
A chaotic weekend at Elland Road saw McDermott sacked on Friday evening only for the club to issue a statement on Saturday saying he was still the manager as the solicitor who spoke to him had no authority to make the decision.
McDermott was reportedly shown the door as Italian Massimo Cellino, the prospective new owner of Leeds United, wanted to replace him with Gianluca Festa.
The club's current owners GFH Capital have agreed to sell a 75 per cent stake in the club to Eleonora Sport Ltd - the Cellino family's company - although the buy-out is dependent on the Football League sanctioning the sale and passing Cellino through its Owners and Directors Test.
However Cellino, who has two previous convictions for fraud, insisted over the weekend he did not dismiss McDermott and that he wants the 52-year-old to remain as manager.
"I want the coach back and have been trying to call him," Cellino told the Sunday Telegraph. "I don't mind this coach.
"How can I sack anyone anyway? I need the approval of the Football League before I own the club.
"GFH are still running Leeds United. They did not want Brian as manager but didn't have the courage to sack him."
The off-field disruption failed to affect Leeds on the pitch as they thrashed local rivals Huddersfield 5-1 on Saturday - with assistant boss Nigel Gibbs in charge - and club captain Ross McCormack revealed after the game that he expected McDermott back at training on Monday.
The Scot, who scored a hat-trick against Town, said: "We're led to believe that he'll be back and that's positive news.
"He's got a good relationship with everyone in the squad. It's not just me, personally. Everyone respects him and he's a genuine, honest guy. All the staff at the training ground really like him too."
To further complicate the situation there are also suggestions that a rival consortium is preparing to make a fresh bid to buy the club.
Cellino's company, Eleonora Sport Ltd, became the leading candidate to buy the club after the collapse of a deal GFH Capital had agreed with Sport Capital -headed by the club's current managing director David Haigh and businessman Andrew Flowers - after a two-month period of exclusivity.
Flowers is the managing director of the club's main sponsor Enterprise Insurance who are reviewing their financial support in protest at Cellino's handling of the situation.
GFH Capital, a Bahrain-based investment firm, bought Leeds from Ken Bates in December 2012 and favoured Cellino's bid, despite interest from a Yorkshire-based consortium called Together Leeds, which includes former Manchester United director Mike Farnan and former Hull chairman Adam Pearson, who left his position as commercial director at Elland Road in 2001.
Together Leeds claims to have been unable to get to the negotiating table with GFH Capital, but said on Friday it was still willing to enter into talks.
You can hear McDermott give his side of the story on Sky Sports News this afternoon