Sky Bet Championship: Leeds United Supporters' Trust slam Massimo Cellino
A Leeds fans' group has questioned the intentions of prospective new owner Massimo Cellino.
Last Updated: 05/02/14 12:59pm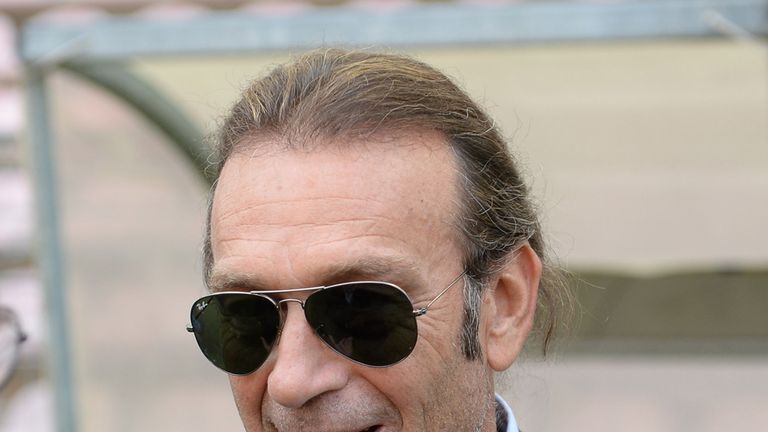 As the power struggle continues at Elland Road amid growing concern about the club's financial problems, Leeds United Supporters' Trust (LUST) said the majority of fans who had contacted them are opposed to Italian businessman Cellino's attempts to take control at Elland Road.
The latest bombshell to hit the ailing Sky Bet Championship club was the issue of a winding-up petition by Andrew Flowers, the managing director of the club's main sponsor Enterprise Insurance and a member of the consortium Sport Capital, whose own takeover bid failed last week.
Flowers issued the winding-up petition on January 29, the day after extensive talks with GFH Capital had collapsed.
It is understood Flower's move is an attempt to scupper Cellino's bid to push a deal over the line. GFH Capital confirmed last week it had agreed to sell 75 per cent of the club's shares to the 57-year-old Cagliari owner.
Flowers in the meantime has joined forces with another consortium, Together Leeds, and it is understood they are in talks with GFH Capital after claiming they could match Cellino's reported £25million offer.
LUST said in a statement: "It is clear that emotions are running high and there is a lot of confusion, frustration and anger about what became almost a pantomime performance of events at Elland Road and Thorp Arch.
"Our members believe this has damaged the image of LUFC, left the credibility of our current owners in tatters and made the intentions of our potential new owner at the very best questionable.
"Over 75 per cent of members, who have responded so far, have indicated that, given the events of last week and the weekend, they do not feel that Mr Cellino would either understand LUFC supporters or be good for the club.
"Regarding the Together Leeds bid, our members indicated they would like to know more about the people involved, their potential to provide finance for the club and what their plan would be to take Leeds United forward.
"Overwhelmingly, our members offered massive support for Brian McDermott, and appreciation for the dignified way he has behaved under such unique circumstances."
Following the collapse of Sport Capital's bid last Thursday, GFH Capital confirmed on Friday it had agreed a deal with Cellino, who wanted his friend and former Middlesbrough defender Gianluca Festa to replace McDermott as manager.
Cellino attempted to sack McDermott on Friday, but after the former Reading boss had stayed away from Saturday's 5-1 win against Huddersfield, he returned to the club as normal on Monday morning with the backing of GFH Capital, which released a statement effectively saying it was still calling the shots.
In response to Flowers' winding-up petition, GFH Capital said in a further statement: "The winding-up petition issued by Enterprise Insurance, a sponsor whose managing director, Andrew Flowers, claims to support the club, is misconceived and an abuse of legal process. It is being vigorously contested by the club's lawyers.
"As there were no valid grounds to issue the petition, we can only assume that Mr Flowers is seeking to influence the deliberations of the club's owners and management in relation to the takeover negotiations.
"Under the ownership of GFH Capital Leeds United has always met its financial obligations and it will continue to do so."