High Court to hear Leeds United winding-up petition on March 17
The High Court will hear a winding-up petition against Leeds United on March 17.
Last Updated: 05/02/14 1:58pm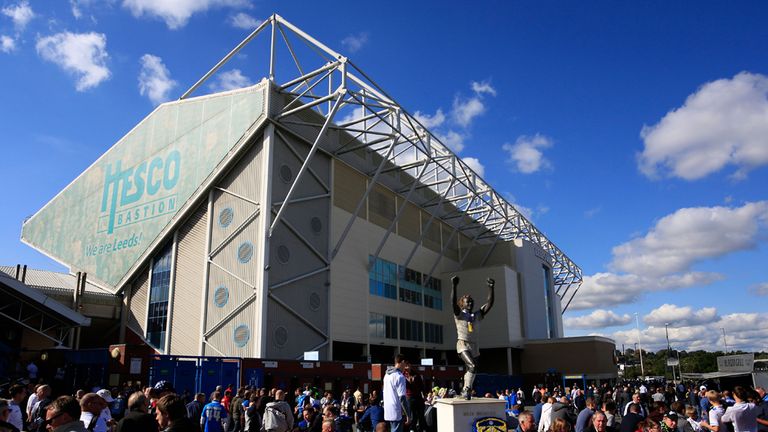 The Championship club's owners GFH Capital have confirmed they are 'vigorously' contesting the winding-up petition.
Shirt sponsors Enterprise Insurance have filed it in the High Court over an alleged unpaid debt.
Enterprise's managing director Andrew Flowers was part of the Sport Capital consortium that saw their attempt to take over the Sky Bet Championship club collapse last week.
According to the Financial Times the petition was filed on January 29, the day after Sport Capital's bid fell through.
Italian Massimo Cellino has since agreed to buy a 75 per cent stake in the club, subject to the deal being approved, although there are reports Sport Capital could return to the bidding process.
A statement from GFH Capital on the Leeds official website read: "The winding up petition issued by Enterprise Insurance, a sponsor whose managing director, Andrew Flowers, claims to support the club, is misconceived and an abuse of legal process.
"It is being vigorously contested by the club's lawyers.
"Under the ownership of GFH Capital, Leeds United has always met its financial obligations and it will continue to do so."
A turbulent few days at Elland Road began with United manager Brian McDermott controversially sacked ahead of a proposed takeover from Cellino last Friday, with the club also rejecting a £4m bid from Cardiff City for Ross McCormack.
With McDermott immediately reinstated as manager, 27-year-old striker McCormack has exclusively told Sky Sports that he hopes to grow in his role as captain and insists that a move to Wales was never a possibility.
"To be honest, (a move away) wasn't that close at all. Cardiff made a bid for me and the club turned it down," he said.
"There were a few more bids made for me, but the club said I wasn't for sale at any price. You have got to respect the decision, get your head down and get on with it."
Following the announcement at the weekend that the 52-year-old McDermott was to return as manager, the Scotland international has reiterated his desire to remain at Elland Road.
"I think I showed where my commitment lies on deadline day when I found out the manager got sacked," he said.
"I could have handed in a transfer request and forced through a move to Cardiff but I didn't do that, because I'm happy to be at Leeds United.
"I love being at the club but that's the industry we're in. Managers change but the football club stays."