Back to the future
"We hope we can follow in their footsteps" - Ross McCormack and Matt Smith look back at Leeds United's glorious history and outline their ambition in an exclusive interview with Sky Sports...
By Interview: Peter Fraser (@SkySportsPeteF) Graphics: Jimmy Adams
Last Updated: 01/03/14 11:16am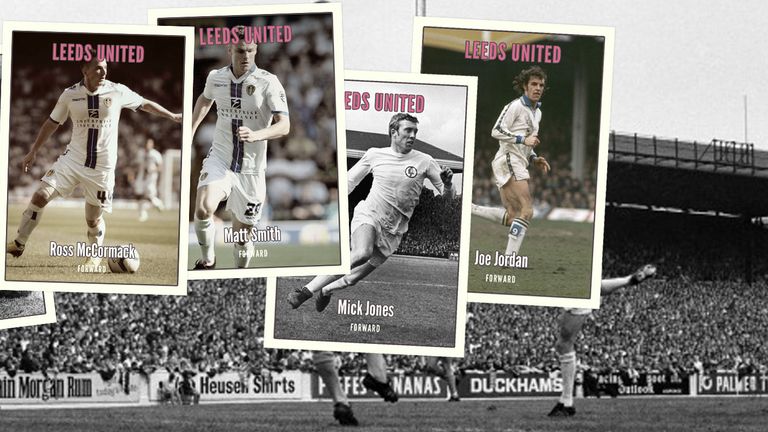 The Elland Road club are presently awash with the prospective takeover of Italian business man Massimo Cellino. Meanwhile, still lingering, is the embarrassment of January's transfer deadline day sacking of boss Brian McDermott before his return just days later. They are the latest sensational off-field headlines at the West Yorkshire club under various owners since the turn of the millennium; a millennium that has already seen Leeds in administration.
On the field, ahead of Saturday lunchtime's game at Queens Park Rangers - which is live on Sky Sports 1HD - and despite the occasional impressive result, such as the 5-1 derby win over Huddersfield Town in between McDermott's exit and return, the club are presently a mid-table outfit in the Championship - English football's second tier. They will have been out of the Premier League for a decade come the end of the season and, in that period, have even been down to the third division. It is unthinkable for a club who were UEFA Champions League semi-finalists as recently as 2001, or top-flight title winners in 1992, let alone being the all-conquering side of 1974.
That Revie vintage from 1961 to 1974 was therefore an iconic era in the club's history and indeed the echelons of British sport. It saw Leeds climb from Second Division champions to two First Division titles, one FA Cup, one League Cup, one Charity Shield and runners-up in the European Cup Winners' Cup.
It was a team of immense skill, featuring the likes of World Cup-winning centre-back Jack Charlton and star strikers Allan Clarke, Joe Jordan and Mick Jones along with captain Billy Bremner and his fellow no-nonsense Scots - Gordon McQueen, Eddie Gray and Peter Lorimer.
Besides their footballing talent, Leeds were of course also inextricably tagged with the 'Dirty Leeds' nickname as a result of players, such as that 'Scottish Mafia', carrying a reputation as men not to be crossed.
Revie himself was likewise allegedly no saint and rumours of corruption have tainted his reputation. However his chalk-and-cheese rivalry with the charismatic Brian Clough, then the Derby County boss, similarly gave that Leeds era an even greater sense of nostalgia. Clough would famously even succeed Revie when he quit to become England manager. But Clough's was notoriously doomed 44-day tenure - as has since been depicted in the David Peace novel 'The Damned United' and its film adaptation.
All of the above makes Revie's last title with Leeds all those four decades ago even more momentous. The achievements of the past can often be a burden for current generations, while many clubs, not just Leeds, can be accused of dwelling too much on their history. But history also provides a benchmark.
Despite those glory days being chronologically and realistically a long way off from the present day at Leeds, that 13-year period of success under Revie is a time to which the club would obviously aspire to return in the future. From the chaos that has been the start of 2014, Leeds are striving for success.
Sky Sports discovered this determination at the beginning of February when sitting down with two of the club's current stars, newly-installed captain and Championship top goalscorer Ross McCormack - fittingly a Scottish skipper given his club's past - and his fellow striker, Matt Smith.
In the suitably historic surroundings of a boarded up Victorian swimming baths for a photoshoot with boot manufacturers WarriorFootball in the town of Ashton-under-Lyne, albeit in the shadows of the wrong side of the Pennies as far as Leeds would be concerned, McCormack and Smith talked exclusively on all things Revie and 'Dirty Leeds' to modern football, social media and...takeaway pizza...
The history of any club is important but Leeds, particularly, are synonymous with what they achieved 40 years ago in the 1970s. If you look at the pictures (showing both players the graphic at the top of this article) and other reminders, do you as modern footballers actually think about your club's past?
Ross McCormack: "You can't. You can't do that."
Matt Smith: "I think the game has evolved to a level now where it's very different to what it was then and from those days. It's all relative. Obviously the game has moved on but those players above were great players."
RM: "We obviously respect what they've done for the club as well and hopefully we can follow in their footsteps."
But there's no escaping the achievements of past players at Leeds. If you look at Elland Road, there are a lot of photos and statues of all the great former players and some of them often attend matches. When you think of Leeds, as demonstrated by the Damned United, you think of what happened in that era around the 1970s, don't you?
RM: "You get to meet the legends around the club, so that's nice. But I think that's part of the problem. People are trying to live up to them too much and not going their own way about things."
Do you think that's a problem at Leeds, specifically?
RM: (Pause for thought) "Leeds is a unique club. Like you say, it has got history. You walk around Elland Road and all you see is the pictures of all the old legends, and when they were back in the Champions League [semi-finals] in 2001. The players we have got here, we are in the Championship now, so it's obviously hard to live up to that. But it's up to us and that's where we aspire to get to."
Apparently, in his time at Leeds, Don Revie was a big believer in team spirit being used as a building block for success and he used to organise team social events, such as carpet bowls, bingo and even dominos. How do you socialise at Leeds today? I'm guessing not dominos?
RM: (Sarcastically) "Domino's Pizzas?"
MS: (Laughs hysterically).
RM: "I think everyone is into the PlayStation or Xbox and play online with the headsets and have a bit of banter. People also go to each other's houses and play Fifa. We have a drink and food with girlfriends and wives. Everyone is together. It's a big part of football these days. It happens off the cuff. Sometimes the captain might organise the big nights out, like the Christmas party, but throughout the weeks and throughout the season, it just happens. It's pretty good."
Unlike in the 1960s and 1970s, social media is a huge vehicle in which modern footballers, and the world as a whole, communicate in the 21st Century. Anyone who follows you two on Twitter knows you enjoy a joke at each other's expense. Is the social media camaraderie now inescapable in football?
MS: "It's fun and games with the social media. But when it's serious and comes down to it, we are a hardworking bunch."
Peter Lorimer once said of Leeds: "Our whole ethos was built on loyalty. We all fight for each other, we all work for each other." That epitomises what a big part team spirit played in that successful era. How does that compare to the modern day?
MS: "It's important to have a good spirit. What's really a test of character and team spirit is when the chips are down and your back is against the wall, as times were the other week when we got a great result [against Huddersfield in between McDermott's sacking and return] in what were difficult circumstances for the players and for the club. I think that in itself is a testament to team spirit within the camp."
Leeds' success in the 1970s was also built on top strikers, such as Allan Clarke, Joe Jordan and Mick Jones. What are your ambitions to become similar goalscoring legends for the club?
RM: "One of the things I looked at when I first came to the club was that I looked at the top 10 goalscorers of all time at the club. It would mean a lot to get on that list. Over the next few years of my contract, I am looking to get into that 10th spot."
Brian Clough (above) had many classic quotes at the expense of Leeds. He said with one of his best: "Don Revie's so-called family had more in keeping with the mafia than Mothercare." The club did have their 'Dirty Leeds' nickname at that time and it's still used today by opposition fans. Is that something you enjoy and do you think that element of the 'hard man' player still exists in football?
RM: "It's still in the game. You have to look no further than our midfield! We have Michael Brown and Rodolph Austin, who are two of the toughest around in terms of tackling and things like that. But it's a hard one, isn't it?" (looking at Smith).
MS: "It's difficult... (McCormack starts talking again).
RM: "I don't think you can fly in to the tackles like you could back then. Straight away, as soon as you leave the floor, you are getting booked these days. It's difficult to emulate that sort of... umm..."
MS: "Behaviour?"
RM: "Yeah."
If you look at the above picture of Jack Charlton, the culture of football as a whole has obviously changed a lot in 40 years. How has the game shifted?
RM: (Laughing).
MS: "Yeah, exactly.... It has become a science. We are surrounded by figures and data and nutrition advice. It's all geared around being the model pro and model athlete as well as having good technical ability. It's about the whole package these days. Whereas, back in the day, maybe there was more of a social culture which is dying these days."
With what has happened at Leeds in the past few weeks (speaking at the beginning of February), the name of the club, its history and prestige has been dragged through the mud. How do you feel?
RM: "My thoughts are that it should not happen at any level, whether it is Leeds United or any club. It has been real tough times, to be honest, in the past couple of weeks with what has been happening inside the club. Hopefully we are not far away from a takeover of the club and then we can have stability and be stronger."
MS: "Obviously it has been tough times but you can look at the atmosphere that you find at Elland Road for our home games and also the away support. Albeit we had a little sticky patch in January but as a group and as a whole we are doing well. It is a case of getting through it, coming out the other side and I am sure we will be fine."
You have had a tough run of games and before the end of March still have to face QPR, Reading and Burnley. How difficult is that going to be?
RM: "It is going to be tough but we always look at these sorts of games and they are the sort of games in which we do well. If I remember rightly we were going through a tough time around about the same time last season and we had two home games in four days when we had Leicester and Palace away and they were flying. You cannot predict the result and there is no reason we cannot go and win those games you mentioned."
Ross McCormack wears the Warrior Superheat Pro and Matt Smith wears the Warrior Skreamer Pro. For more information go to www.warriorfootball.com or follow @WARRIOR_FTBL