Brendan Guilfoyle doubts Leeds will go into administration
Brendan Guilfoyle does not believe Leeds will go into administration but has warned clubs against the benefactor model.
Last Updated: 27/03/14 3:08pm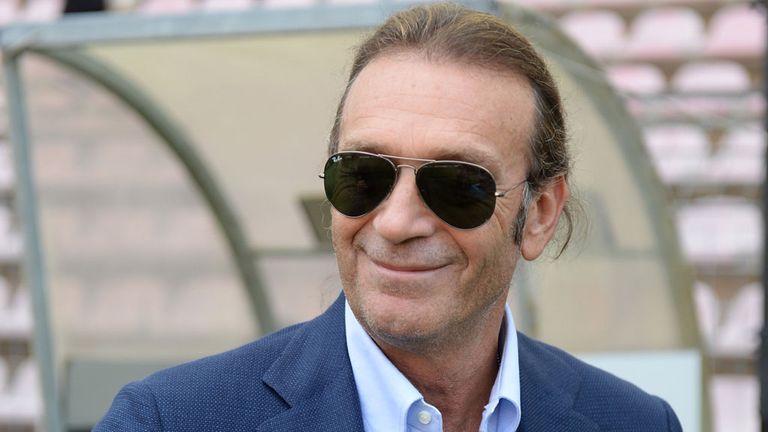 The Football League on Monday announced it had ruled Massimo Cellino cannot take over at Elland Road, the Italian businessman failing the Owners' and Directors' Test because of a recent conviction in an Italian court.
Cellino is appealing against the decision but, regardless of the outcome, Guilfoyle does not expect the West Yorkshire club to be placed into administration.
He told the new FL72 Weekly Show on Sky Sports News Radio: "I doubt [they will go into administration]. In financial terms there would be a lot to lose for both GFH and Cellino, who would be major creditors. So if there is funding available to take the club forward I would have thought that's what they'll do.
"They'll be wanting to see the outcome of Cellino's appeal and, if Cellino would allow them to, I suspect GFH will be talking to the other interested party, Together Leeds. So you'd hope that two-pronged approach would take them into an area of more certainty."
Guilfoyle has previously been the administrator of a number of football clubs, including Crystal Palace, Plymouth Argyle and Luton Town, and he believes it is dangerous to rely on one major shareholder.
He said: "The majority of clubs - and the Championship is a particularly difficult place to operate - are run on what is known as the benefactor model so they are funded by a benefactor, be it a company or an individual.
"The benefactor model is OK if the person has got very deep pockets. Bristol City lost £17million this year because they've got Stephen Lansdown of Hargreaves Landsdowne funding it and he has got a lot of money.
"But if someone comes in with a limited amount of money it does get eaten up very quickly, and there's a lot to do at Leeds. There's the ground to be recovered and the training ground to be bought back following previous administrations so Leeds are in a downward spiral that they've somehow got to break out of.
"The best model I saw (as an administrator) was at Crystal Palace where I met two potential owners who were both worth about £130million, and they found another two, but this is a club in London where there is a lot of wealth.
"The four of them own the club and that to me makes sense because if one wants out the other three can hopefully shoulder the losses together until they find someone else to come in and fill that spot.
"I like that consortium model rather than a benefactor because it seems to me more sustainable. If the circumstances of your benefactor change - he runs out of money, he becomes ill, he gets divorced - then that undermines the viability of the club."
Guilfoyle also explained some of the problems he has faced as an administrator and revealed it was his time at Luton Town that 'got to him' the most.
He said: "You normally get there and there's a CEO who's hopefully been there a while, who is running the club, but if you haven't got one of those because he may have only been in a short time or he's gone with the previous owner there's always a club secretary who's been there donkeys years who can tell you exactly how it all is.
"The thing that worries you is the rate at which cash is burned. The wages come around very quickly and you're looking to find in excess of £1million generally to fund the wages.
"You can't go anywhere to get that money so you're looking at things like selling players and invariably getting the players to agree not to be paid and to carry on playing until the club is sold.
"Luton Town really got to me. They got sanctioned for going into administration, they got sanctioned for failing to come out of administration without the agreement of the Inland Revenue, and then the FA weighed in with another sanction because they'd paid some agents fees through a holding company.
"They fell right down to the Conference but they're running away with it now and I was told the other day they'd found some benefactor who's a very quiet guy who doesn't even take a car to games but is putting money in at that level so hopefully they'll be back in the Football League next year."
Also on this week's FL72 Weekly Show was former Barnsley manager John Hendrie, former Bury boss Kevin Blackwell and Portsmouth spokesman Colin Farmery on whether they'll survive relegation from the Football League.
Listen to the full show, with plenty more from Guilfoyle, via the Soundcloud player below.