Massimo Cellino appeals against Football League block on Leeds takeover
Italian entrepreneur Massimo Cellino has made a formal appeal against the decision to block him from taking over Leeds.
Last Updated: 27/03/14 5:12pm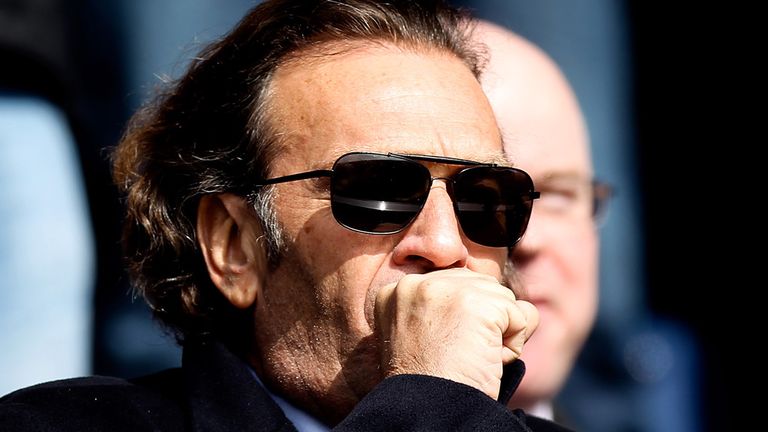 The appeal will be heard by an independent QC and is expected to take place within the next two weeks because league chiefs are aware that Leeds' future could depend on the outcome of the appeal.
Cellino was disqualified under the League's owners' and directors' test after being convicted of a tax offence by an Italian court.
The offence related to the non-payment of import duties on his boat and resulted in a fine of 600,000 euros (£500,800) by a Sardinian court and the confiscation of the boat.
The QC in charge of the appeal will be given access to specialist advice on Italian law - something that will be necessary given that Cellino, the owner of Serie A side Cagliari, has claimed that because he is appealing against the court's verdict under Italian law he is treated as innocent until proven guilty.
Eleonora Sports, the company headed by Cellino, had agreed to buy a 75 per cent stake in Leeds from Bahrain bank Gulf Finance House Capital in February.
Since then it is understood the Italian has been bankrolling Leeds - some reports say he has invested £6million in the club with a view to taking control at Elland Road.
A Football League statement said: "The Football League can confirm that the legal representatives of Massimo Cellino have lodged an appeal against The League's decision that he is subject to a disqualifying condition under its Owners' and Directors' Test.
"The appeal will be heard by an independent QC, who will have access to independent expert evidence relating to certain aspects of Italian law and will determine the matter following submissions from both parties.
"The appeal will be convened at the earliest opportunity, in line with The Football League's previous commitment to expedite the appeal process to deliver much-needed certainty to all the relevant parties."
The case has been viewed as a major test of the rules that govern ownership of Football League and Premier League clubs.
The Government has also been pushing for several years for football's authorities to take a stronger stance in relation to club ownership.
A Department for Culture, Media and Sport spokesman said: "Both the Government and football fans asked the football authorities to strengthen their fit and proper persons' tests in recent years.
"The Football League and Premier League have done that and we back their toughened rules on club ownership and their efforts to improve transparency and financial sustainability in the game."
A Premier League spokesman said: "We and the Football League and the FA have worked closely to develop robust governance rules and they should be applied when appropriate."