Sky Bet Championship: New Leeds chief Massimo Cellino aims for promotion by 2016
New Leeds owner Massimo Cellino has promised to steer the club back to the Barclays Premier League in two years' time.
Last Updated: 08/04/14 8:55pm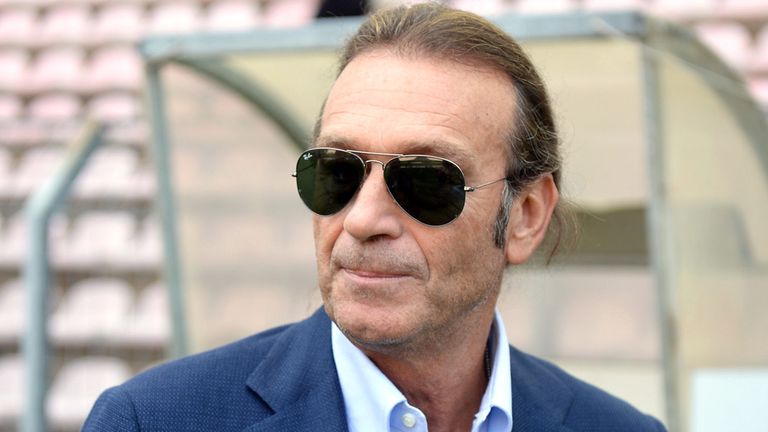 Cellino made a successful appeal against the Football League's decision to block his takeover of the Sky Bet Championship club after being convicted of tax evasion last month in a Sardinia court.
The Football League ruled that Cellino had failed their owners' and directors' test but an independent lawyer, Tim Kerr QC, overturned that decision.
The Cagliari owner, whose company Eleonora Sport exchanged contracts with Gulf Finance House Capital on February 7 to buy 75 per cent of the club's shares, told the Sun on Sunday: "I don't want to make promises I can't keep and I admit it will be difficult to get promotion next season. But in 2015-16 we will earn our way back to the Premier League, which is where Leeds belong.
"A lot of work needs to be done on the squad. We need new players. In the summer, we will buy some players. I want to focus on English and international players."
GFH Capital and Cellino had been in dispute over who was responsible for the players' wages.
Bahrain-based investment firm GFH Capital, who bought the club from Ken Bates in December 2012, claimed Cellino was responsible for funding the club's running costs under the terms of the deal.
There were fears that Leeds could slip into administration if Cellino's appeal failed but the Italian will now settle outstanding wages and repurchase Elland Road and the club's Thorp Arch training complex.
Cellino, who met the club's running costs for January and February, added: "Next week I will go to the bank and buy back Elland Road and Thorp Arch. And on Monday I will pay all the wages."
Leeds responded to Cellino's appeal victory on Saturday by announcing that GFH Capital would retain 25 per cent of the club, that Cellino would become club president and that managing director David Haigh would become chief executive officer.
But Cellino clearly sees no role for Haigh going forward, telling the paper: "David has to go. I have had too much of him."
Mike Farnan, head of local consortium Together Leeds, said on Saturday the group would meet next week for talks on a joint approach for taking the club forwards.
But Cellino was less forthcoming and would only say: "I promised I will talk to them and that is what I will do."
Cellino's disqualification under the League's owners' and directors' test related to the non-payment of import duties on his yacht and resulted in a fine of 600,000 euros (£500,800) and the confiscation of the boat.
The 57-year-old's lawyers successfully argued that, because Cellino had appealed against his tax conviction, he is considered not guilty under Italian law. That appeal process could take up to nine months.
The League expressed its disappointment at the ruling and said it would "consider the findings of the appeal".
It is uncertain whether the League will launch its own appeal.