Championship: Football League to rule on Massimo Cellino's Leeds takeover
The Football League must decide whether to ratify the takeover of Leeds by Massimo Cellino at a meeting on Thursday.
Last Updated: 08/04/14 8:54pm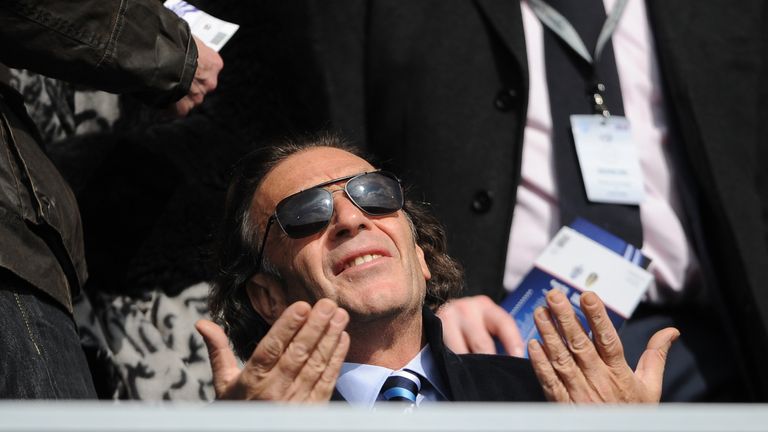 Cellino is due to arrive in England from Sardinia on Monday to assume his role as president of the Championship club after an independent lawyer overturned the Football League's decision to bar him from becoming an owner.
The League had blocked Cellino's takeover on March 24, ruling the 57-year-old's conviction of tax evasion in a Sardinia court on March 18 disqualified him under its owners and directors test.
Cellino secured an unexpected victory against that decision on Saturday following a successful appeal.
Following six-hour deliberations at an appeal hearing last Monday, Tim Kerr QC initially reserved judgement and then announced he had overturned the League's decision after Leeds' defeat in the Saturday lunch-time kick-off at Wigan.
Kerr's ruling ended a two-month wait for Cellino, whose company Eleonora Sport exchanged contracts with previous Leeds owner Gulf Finance House Capital to buy 75 per cent of the club's shares on February 7.
Cellino, who is now clear to complete his takeover, said he will now set about transforming Leeds into a Premier League force, but the saga has not yet run its course.
The Italian's disqualification under the League's owners and directors test related to the non-payment of import duties on his yacht, Nelie. He pleaded not guilty, but was convicted in a Sardinian court, fined of 600,000 euros (£500,800) and had the boat confiscated.
The League argued this could be considered dishonest under its owners and directors test, which bars any person from becoming owner or a director of a football club if they have "unspent convictions for offences of dishonesty".
Cellino's lawyers said he was appealing against the Sardinia court's conviction and his legal team at the League hearing argued the agricultural entrepreneur had not yet been convicted due to the procedural nature of Italian law.
Kerr disagreed and ruled Cellino had been convicted, but because the judge in Sardinia, Dr Sandra Lepore, had not yet given her written reasons for the conviction, the independent QC could not rule that he had acted dishonestly.
This specific offence of tax evasion, Kerr said, can involve dishonesty, or in Italian law a person can be convicted of failing to pay the tax without having done so dishonestly.
But should Dr Lepore's report confirm that Cellino did act dishonestly when avoiding import duties, then the Italian would then be disqualified under the League's owners and directors test.
"If the reasoned ruling of the court in Cagliari discloses that the conduct of Mr Cellino was such that it would reasonably be considered to be dishonest, he would become subject to a Disqualifying Condition. But that is not a matter that is before me," said Kerr.
Dr Lepore's report outlining her reasons are due by mid-June, within 90 days of Cellino's conviction.
The League must therefore decide at its meeting on Thursday whether it can give Cellino the go-ahead in the knowledge it could be forced to disqualify him later this summer.
In the meantime, Cellino will plough on regardless. He will resolve the coaching staff and players' wage issue - they deferred 50 per cent of their March salary - pay off other debts and said he intends to buy back the Elland Road stadium and the training complex at Thorp Arch.
He said on Sunday that manager Brian McDermott's squad needs a complete overhaul, that managing director David Haigh will be sacked - he was to become chief executive under Cellino - and that he would meet with rival consortium, Together Leeds, to discuss a proposed joint venture.
Whether he gets the time to put his plans in place rests with a judge in Sardinia, whose report on his tax evasion case could yet decide his fate.