Massimo Cellino sees Leeds United potential as he clarifies Cagliari position
Massimo Cellino is sorry for comparing Cagliari to a Fiat, but sees Leeds United as his chance 'to drive a bigger car'.
Last Updated: 08/04/14 8:54pm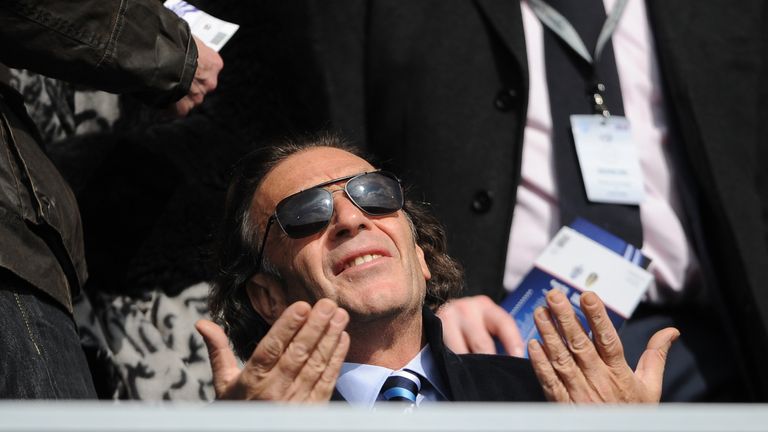 Cellino owns Cagliari and is also on the verge of a takeover at Elland Road after a successful appeal against a Football League ruling.
However, some of his recent comments have upset Cagliari, and club captain Daniele Conti criticised Cellino over the weekend for suggesting that 'being with certain sides it is like driving a Ferrari, while here it is like driving an economy car'.
Cagliari fans have staged protests as they seek clarity over his intentions, and Cellino is sorry to have caused any offence as he remains committed to the club.
But he is excited about the potential at Leeds as he embarks on his latest project, having promised to lead the Championship club back into the Premier League by 2016.
"I was ready to step aside for the good of Cagliari," he is quoted as telling told L'Unione Sarda. "I was almost sold to the Arabs. In the meantime, I envisaged an opportunity to buy Leeds.
"And since I cannot retire to fishing, I have tried to see where I can go in my professionalism.
"I gave the example of the Fiat 500, with the engine souped up, unable to compete in a race with Milan, Inter, Juve, with low resources and limited economic opportunities. Always at full speed though. For this reason, sooner or later it is forced to slow down.
"Now with Leeds, I have the chance to drive a bigger car in relation to its potential, a stadium with 35,000 fans and a downhill road. A challenge. To understand that I can go beyond the bounds of Cagliari and from Cagliari. But of course I did not want to disrespect anyone, if anything I am the one that has been questioned as a driver.
"Interest from an American consortium? I do not know them, I read that the mayor is meeting to talk about the stadium, but I have only met once an Italian representative.
"To tell the truth, for more than a month I have been considering nothing because at this time the only goal is to bring the boat to port and not put anything at risk.
"I gave my life to Cagliari and I am continuing to give it, otherwise I would not be back to stay close to the team and I would not have my responsibilities in changing the coach."
Diego Lopez became the 36th manager to be fired by Cellino in his 22-year reign at Cagliari over the weekend, with former assistant Ivo Pulga appointed in his place.
And Cellino explained: "I did not share in the choices Lopez made for a long time. This is pretty much an admission of guilt. I was wrong to entrust him with the team, it was a risky choice.
"He was no longer doing work dedicated to the interests of the whole of the club and the growth of the team.
"He no longer had the attitude of someone needing to mature, improve and question themselves. Too many injustices then. There was little loyalty in making his selections."